6 Reasons To Watch Netflix's 'Love Hard' This Holiday Season!
12-17-2021 by Meredith Reilly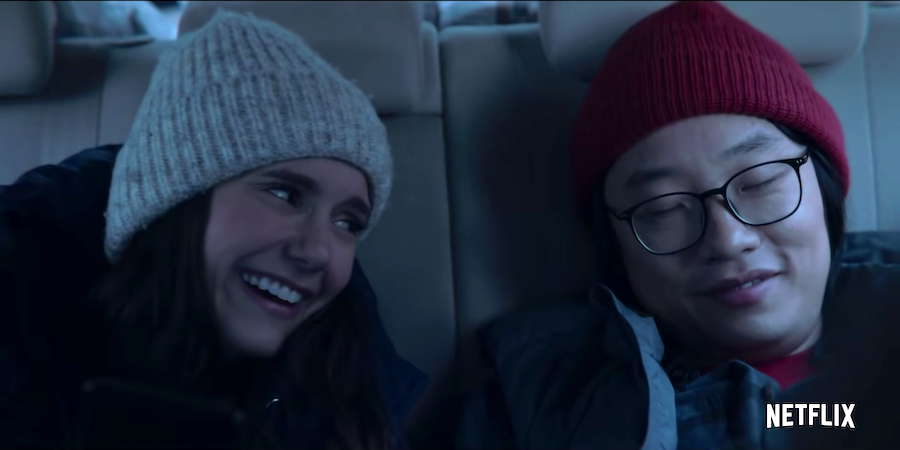 (Netflix)
Everyone loves a good Christmas movie, and boy have we found a great watch for this holiday season. Currently available on Netflix, Hernán Jiménez's Love Hard, starring Nina Dobrev, Jimmy O. Yang, and Darren Barnet, takes a modern twist on the classic Christmas film -- imagine Hallmark meets The CW.  Not only is it filled with an unlikely love story that keeps you captivated, it has various hysterical moments that will have you laughing the entire way through the film. 
Picture this: Natalie Bauer (Dobrev) is a dating columnist in L.A. who's convinced she's met her "perfect match'' on a dating app. So what does she do? The only reasonable thing she can do -- fly 3,000 miles to surprise him for Christmas! However, upon her arrival, she learns she's been catfished by her "perfect match" Josh (Yang). 
Here's six reasons why Love Hard is the perfect movie to watch this holiday season!
1. It's relatable. 
Natalie's lack of luck in love is something a lot of us can relate to. Dating apps after dating apps, swipes after swipes, Natalie has tried it all! The realism of her online dating failures really allows the viewer not only to feel her pain but relate as well. Whether it's being ghosted at a bar or catfished, she's been there and we've been there too, which makes Natalie an easy character to empathize with. 
2. It's funny.
Right off the bat, we get a montage of Natlie's disaster dates, each one more shocking than the next. I have to say my favorite of her dates-gone-wrong is a toss up between the guy that had a wife, or Ted the Libra who invited her on a sunset sail but ghosted her at the dock. Not to mention, this isn't even half of the hysterical content packed into this film. 
3. Nina Dobrev's solo of "I Would Do Anything For Love". 
Who knew Nina Dobrev could sing? The "Vampire Diaries" alum made her singing debut in this film with her rendition of Meat Loaf's "I Would Do Anything For Love", and let me just say, she killed it. Dobrev's character, Natalie, was trying to impress Darren Barnet's character, Tag, with "sexy karaoke". However, things got a little interesting when she had an allergic reaction mid-performance. This scene in itself is worth giving the movie a watch. 
4. Josh's older brother Owen. 
Josh's older brother Owen, portrayed by "Glee" star Harry Shum Jr., is possibly the most dislikeable character in the film, besides Natalie's boss. However, this is what makes Owen so great, as he fits right into the classic older brother stereotype, which adds a lot of tomfoolery to the film. Owen is rude, egocentric, constantly belittles Josh, and he knows something is fishy about Natalie and Josh's relationship and works the whole film snuff it out, which leads to some pretty hilarious moments you must watch the film to see.
5. Family Christmas caroling. 
Not only do we get to hear Dobrev sing again, but we get an a cappella-style Christmas carol performance from the whole family -- even though Owen tries to take center stage and makes it his sole goal to outshine everyone in front of the neighbors. But my favorite part of the caroling, and maybe even the movie, is when Natalie and Josh sing a duet of "Baby It's Cold Outside" but change a few lyrics to keep up with modern times. This remix of the classic Christmas song has found popularity among TikTok users. 
6. It has a happy ending. 
I don't know about you, but I like my movies just like my presents: wrapped up with a bow. There is a time and a place for sad endings, but it's not in holiday movies. That's why I loved Love Hard so much; the ending perfectly wrapped up the film just the way you hoped it would end. Don't worry, I won't spoil it, but it does set itself up for a sequel! 
We strongly recommend watching Love Hard this holiday season, or at the very least adding it to your must-watch list. I mean, come on, who doesn't want to see Nina Dobrev sing not once but twice in the same film?!
Love Hard is now streaming on Netflix.