6 Reasons to Check Out RedFoo's "Juicy Wiggle" Video!
Written by Madeleine St. John. Published: March 25 2015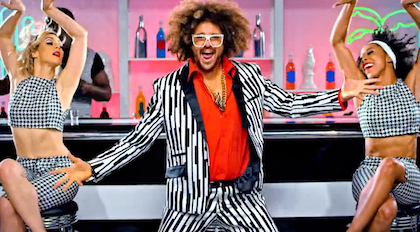 You may remember him as the afro-haired half of LMFAO, but now Redfoo is a back and all on his own – with a brand new single that's sure to redefine dancing for all you party rocking fans! Still haven't given "Juicy Wiggle" a listen? Just in case you need convincing, here are a few reasons you'd be a fool NOT to check out Redfoo's new single, "Juicy Wiggle"!
1. For starters, the song is called "Juicy Wiggle". And if that's not irresistible, I don't know what is.
Curious to know what a juicy wiggle might look like? Yeah, me too. Whatever the case may be, with a name like "juicy wiggle", this dance move has got to be at least intriguing, if not exciting.
2. "Party Rock Anthem" was soooo four years ago.
We all loved Redfoo as part of the LMFAO duo that brought us "Party Rock Anthem". But after four years, it's time to up our dance party game with a little "Juicy Wiggle". Now you party rockers can get down and clown around like you've always loved to – but with a fresh new beat!
3. The keys on this song are unreal.
In his new single, Redfoo proves that he can be both entertaining and innovative. By combining his signature club beat sound with a piano part that might as well have been stolen straight from a line dance jam, Redfoo gives his listeners something that will keep them amused and moving for a long long time!
4. "Juicy Wiggle" is a new dance craze we can ALL get on board with.
We've cranked that Souljaboy and been taught how to dougie. Now its time for "Juicy Wiggle" to take over the dance floor! What's more, instructions on how to do this new groove can be found in the song itself! Redfoo says that the "juicy" in this song refers to the body's flow, and the "wiggle" is all about the hips. Who wouldn't wanna give that a go?
5. After listening to this single and loving it, you too will want to become part of the #FooCrew!
Redfoo's fan club is called the FooCrew – and quite appropriately so, right? After listening to this jam, you're sure to become a fan. So go toredfoo.com where you can sign up to be an official member of the FooCrew!
6. Because we can all stand to let it jiggle with a little "Juicy Wiggle".
Truth talk -- When was the last time you really let loose? Not since "Party Rock Anthem" made its first appearance? Yeah, me neither. Well, Redfoo is taking his own advice to "move your hips and dance like this" by appearing on Season 20 of "Dancing With the Stars". Follow suit and get loose!
Check out the "Juicy Wiggle" music video below, followed by our chat with 'Foo during rehearsals for "DWTS" where he gave us an exclusive lesson on how to rock this soon-to-be new dance craze!
(Screenshot via YouTube)
- Madeleine St. John, YH Staff