6 Popular Books & Book Series That Deserve Another Shot On-Screen!
10-23-2020 by Andi Ortiz & Katie Marzullo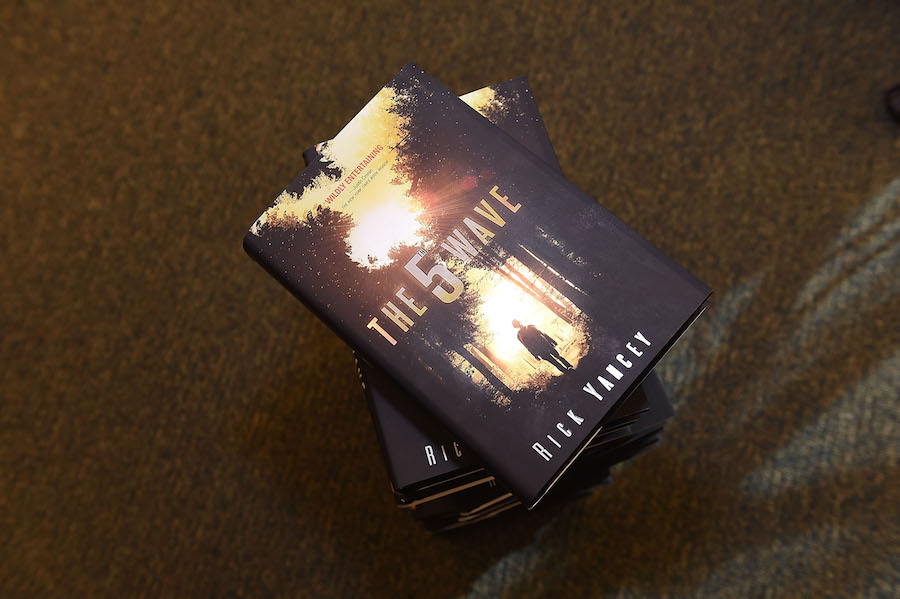 ( © Paras Griffin/Getty Images)  
Hercules isn't the only demigod returning to our screens in the near future. After some talks with the Disney Gods, it's official; a Percy Jackson series is coming to Disney+.

At this point, we have no idea when it'll happen or who will bring our favorite demigods to life. But for the time being, there's really only one concern: it HAS to be better than the movies were. Of course, considering Rick Riordan, the author behind the Percy Jackson books, is directly involved this time around, that's a bit of a given. Riordan has made no secret of his distaste for the movie adaptations of his books, and having more of a say this time will most certainly make a difference.
Sadly, Rick Riordan isn't the only author whose novels have suffered from the pain of a rough movie adaptation. In truth, it's unfortunately common. Book fans are keen on details and have no problem calling out discrepancies on-screen. But the nice thing about book fans is that they can forgive and forget -- if the next go-around is better.
So, we've rounded up a few series that haven't quite stood up on screen, whose stories (and fans) really deserve another shot.
1. The Mortal InstrumentsSeries
Written byCassandra Clare, The Mortal Instrumentsseries has been brought to screen not once, but twice now. First came the movie attempt, The Mortal Instruments: City of Bones.
More recently, the saga was turned into a series on Freeform called "Shadowhunters". After 3 seasons, the show came to an end in May of last year. And truthfully, neither adaptation was really that bad. Granted, the movie rushed things, revealing a secret that, in the books, doesn't come to light until Book 3, but that's the pitfall of movies-- without the guarantee of sequels, they have to rush the storytelling a bit.

For whatever reason, though, the story of Clary Fairchild just couldn't go the distance on-screen. Cassandra Clare has a number of stories in the Shadow World. A network like HBO or Netflix could have a lot of fun with The Infernal Devices… just saying.
2. Vampire Academy
There was a time in pop culture where vampires were just IT. We may not like to talk about it, but we do have to own up to it. There was theTwilight movies, then "The Vampire Diaries" – it was an… interesting time. And in 2014, there came a vampire flop so hard, fans are still mad about it to this day: Vampire Academy.
To be fair, the movie had a stellar cast. For most fans, the complaint is that it simply jumped on the vampire zeitgeist, turning the book from a piece of work that deals with complex issues to another bad teen movie. (I asked a friend about this one, and she literally just made angry sound effects, if that's any indication.) Are we ready to get back to vampires in 2021? Sure, if it's done right this time.
3. Divergent
TheDivergent series adaptations are a bit of a mystery. Starring Shailene Woodley and Theo James, the movies started out incredibly strong.
But somehow, the franchise tripped at the finish line. The final movie,Allegiant, based on the third book, was set to follow the likes of Harry Potter and Twilight at the time, splitting its final installment into two parts. While the first part premiered in 2016, the second never came to be. The final film was to be called Ascendant, and was pushed from a theatrical release to a TV premiere, to be followed by a spinoff series. Both were canceled, with a number of unanswered questions surrounding the projects.

The story deserves to be told through to the finish – even if that means starting from the beginning again. After all, dystopian series are beloved, even in the weirdness that has been 2020.
4. The 5th Wave
To be clear on this one, The 5th Wave was not a bad movie. In fact, it's one of the few book adaptations that made me want to read the book.
Yes, it condensed things, but what movie adaptation doesn't? The problem is that they stopped with just the one movie. The 5th Wave is actually a trilogy, and there is still a whole lot of story to be told. We need more badass heroines on screen, and Cassie Sullivan is the definition of badass heroine.
The 5th Wave is a story of love, both romantic and platonic, it's a story of survival, and it's a story about aliens. Please, Universe, please give this whole trilogy a chance on screen.
5. Artemis Fowl
As a movie,Artemis Fowl was subpar. As a book adaptation, Artemis Fowl was a hot mess.
While the books take readers on adventures, the movie largely has just one location. One location where every tool needed seems to be present, one location that everyone flocks to. It's almost like a bottle episode of a show, attempting to explain it with time freezing technology. But more than that, Artemis Fowl is actually a pretty dark character for a 12-year-old. He's more of an anti-hero, and it's okay to lean into that grittiness.
Much like theEragon novels (another story that saw a ROUGH transition to screen), the Artemis Fowl books were a staple for not a small number of childhoods. If they weren't done right when adapted, people would notice. And they did. So next time we tackleArtemis Fowl – give it a few years, it'll happen – let's do it right.
6. A Song of Ice and Fire
If that title is unfamiliar to you, then we've kind of proved our point here already. This book series was the basis for a little TV show you might know as "Game of Thrones". Now, by all accounts, despite the crash and burn of the final season, GoT was actually a huge success. But ask the average book reader and they will tell you that it could have been much, much more than what we got. Even the author himself, George R.R. Martin, has indicated on more than one occasion that the show veered sharply from the books, and that the as-yet unfinished books 6 and 7 will be dramatically different than the final seasons of the show -- a revelation which has even show-only fans breathing a sigh of relief.
One of the more popular dream scenarios for book fans is to see the fantasy epic turned into an animated series, preferably in the style of "Avatar: The Last Airbender" or "Castlevania". Animation would mitigate those pesky issues that live-action runs into, like budget and special effects, allowing the adaptors to preserve many story elements that are difficult to convey in live-action. Who knows, in a decade or so, when the ASOIAF books are finally complete, fans might finally get their wish for a truly faithful adaptation of their beloved series!