5 Ways 'Black Panther' Is Already Changing The Game!
Written by Diego Pineda. Published: February 15 2018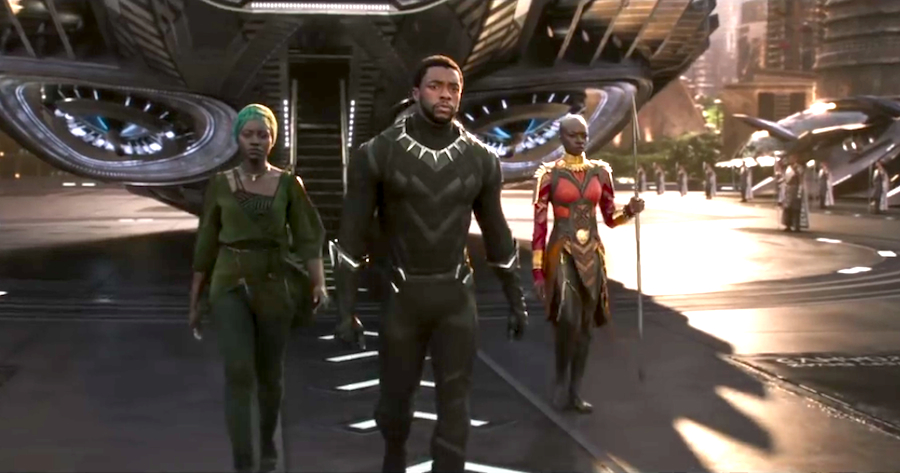 The wait to watch one of the biggest blockbuster films in history is almost over! Marvel and Disney'sBlack Panther premieres this Friday, February 16, and has everyone talking about its story, cast, and the impact it will have in Hollywood and around the world.
Here's a look at some of the things that have us the most excited about the movie!
1. Taking steps towards more representation
Black Panther is not just a superhero movie, but a movie that hopes to defy stereotypes and change perspectives. It is making history by being the first superhero movie with an African main character, the first to have a Black writer and director, as well as the first to have a majority Black cast.
It is bringing more inclusion towards Black stories on the big screen with the help of  African-American director Ryan Coogler (Creed) and an all-star African-American cast that includes Chadwick Boseman(42), Michael B. Jordan(Fruitvale Station, Creed), Lupita Nyong'o (12 Years a Slave), Angela Bassett, Forest Whitaker, Danai Gurira ("The Walking Dead"), Letitia Wright ("Black Mirror"),Daniel Kaluuya (Get Out), among others.
After seeing the growth of Black films with Get Out, Girls Trip, and Hidden Figures, we can't wait to see how this phenomenon keeps paving the way for more stories about minorities.
2. Breaking social media records
Even before its premiere, Black Panther has already made Twitter history by being the most-tweeted film in 2018 around the world! There have been more than 5 million tweets this year that helped get the movie trending. Even when casting was announced in May 2016, the hashtag #BlackPantherSoLit began trending.
Other hashtags that have helped this movie have an impact on social media are #WhatBlackPantherMeansToMe, in which fans talked about the message of race and representation of the film. #BlackPantherChallenge has also gone viral and became a campaign that raised about $300,000 to send kids to see the film.
Don't forget to tweet us your thoughts on #BlackPanther on Twitter!
3. Selling the most pre-sale tickets, ever
Black Panther has sold more pre-sale tickets than any other superhero movie ever, according to Fandango. It is estimated to debut between $150 to $170 million in its opening weekend!
Not many films are able to combine two different crowds of fans such as this one. It is uniting regular Marvel fans along with the African-American audience. The strong reviews and predictions that the film already possesses have us counting the hours to see the premiere and see how it does this weekend.
4. Its soundtrack album is on the top music charts
In addition to its story and sales, the soundtrack for Black Pantherpromises to be a success. It is produced by Kendrick Lamar and predicted to have a #1 spot on next week's Billboard's Top 200 album chart. Black Panther: The Album features songs from Lamar, SZA, The Weeknd, ScHoolboy Q,Jorja Smith, Vince Staples,Khalid, and many more.
The beats of the songs from the soundtrack range from many genres like hip-hop and rap to elements of traditional African drums. The lyrics of the songs are inspired by topics such as African diaspora and politics today. Get ready to have the 14 songs from this album on repeat.
5. Empowering its audience
Black Panther is premiering in the middle of Black History Month and it is not afraid to tackle themes of race and nationality. The film retells the narrative of Africans if slavery and nationalism had never occurred.
All of its characters have powerful narratives aimed to uplift its audience. One of the unique concepts of the film is that it celebrates Black excellence and gives its audience, especially the African-American crowd, a superhero they can relate to and look up to.

Be sure to get your ticket for the premiere of Black Panther so you can be a part of cinematic history!
(Image via Marvel Entertainment)
- Diego Pineda, YH Contributing Writer