5 Times Meghan Markle's Life Foreshadowed Her Royal Engagement!
Written by Nicole Dzenga. Published: December 06 2017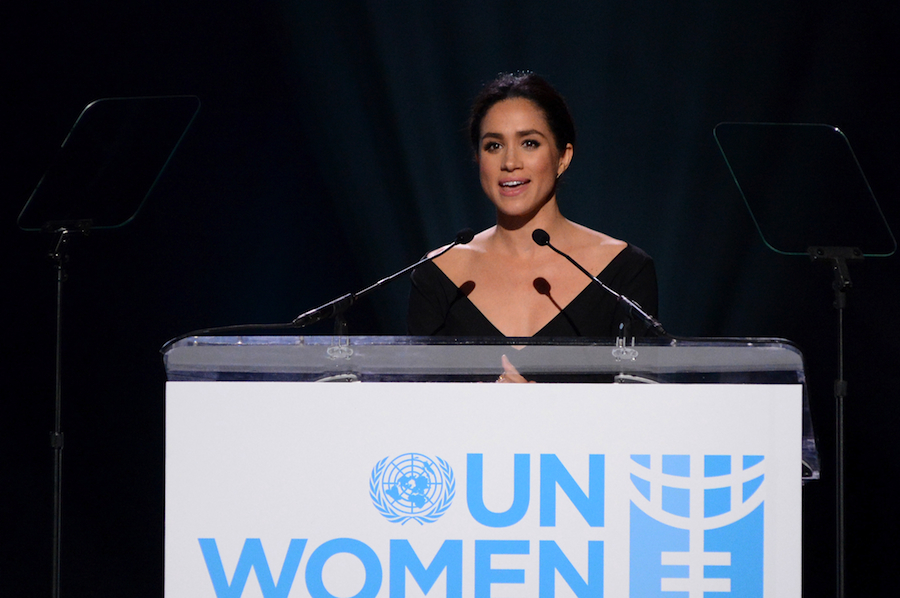 When you're just a regular girl who suddenly has to join the royal family, things can get pretty intense. Well, for Meghan Markle, things definitely went from 0 to 100 real quick. The actress recently got engaged to Prince Harry, and we could not be happier! In celebration of this royal engagement, here are five times the "Suits" star foreshadowed her soon-to-be royal life!
1. On "Deal Or No Deal"
"Deal or No Deal" has us grabbing the edge of our seats hoping our box is picked as we shout at the TV screen in anxiety, but for Meghan Markle, each day on the game show was just another day of being a briefcase model. Yes, it's true! The soon-to-be royal highness had to "stand and look pretty" as she waited for someone to pick her box back in 2006, and it has us shook to the core. However, it turns out all that smiling and queen-like clapping was merely preparing her for a lifetime of smiles and candid waves as a soon-to-be duchess. This is clearly a storyline for the nextPrincess Diaries movie and we're taking notes! Just smile and wave, boys, smile and wave.
2. On UKTV
In an interview done by UKTV in 2016, the "Suits" star was quizzed on her British knowledge by answering questions to the best of her knowledge at the time. What Meghan did not know was that, in a year's time, that interview would come in handy, you know, being the Prince of Great Britain's fiancee and all. The interview tested her knowledge of England's national animal, in which she replied, "Am I supposed to know that?" She was then quizzed on British terminology, explaining that she knew what a "bin" and "trousers" were but she was clueless about the rest. Well, now she will be heading to the palace to have some tea with theQueen while watching baby lion cubs play around as she knits a lovely jumper. Way to make it come full circle, Meg!
 3.
3. On Instagram
Although it may have only been a reference to the show, we couldn't help but see into the future when the star posted a photo with the caption, "Honey, I'm home." The post is from late September 2016, and it was taken on the set of "Suits", but fact that she is holding a key to an apartment to hint at moving in makes it even more beautiful! As unfortunate as it is, the actress will be leaving the show to start her new life with Prince Harry, and they are both excited for what is next. "I don't see it as giving anything up, I just see it as a change," the star insists in her most recent interview. A bittersweet ending that opens up doors to new beginnings. Hope you have that extra key, Harry!
4. On "Suits"
Rachel Zane is a straight-up savage who is not afraid to fight back when things don't go her way. There are so many epic moments in the series where she was basically "Suits" royalty, and boy did she own it. From her iconic line "I'm a sure thing" to " I'm pretty much a legal superhero", big Rach was setting herself up for some heavy expectations and demands that she knew she could handle. There are very few things that are more demanding than joining the Royal Family, but with Rachel's killer mindset and Meghan's female activism, there is no way her royal highness will disappoint. Do it for all the sure things out there, Rach!
5. During her UN Speech
Mirror, mirror, on the wall, what was the most empowering speech of all? Having a platform on the UN panel does not come easy, so when you do, use it to its fullest potential. Meghan certainly followed this guideline when delivering her speech on being a feminist and advocate for female rights, and she was the very embodiment of a queen! Her touching story along with its powerful message are exactly what people look for in a leader, and her poise and resolve will go a long way with her British followers. A powerhouse is joining the Royal Family, so we can all expect speeches of the best caliber from our girl from now on. They don't know what's coming!
Its all fun and games until someone marries a prince, but things are looking pretty optimistic for this royal duo, and we cannot wait to see wedding pictures. Until then, we will be holding onto the very few cheesy, romantic engagement photos. That's not bad, that's not bad at all!
(Image via Ivan Nikolov/WENN)
- Nicole Dzenga, YH Contributing Writer