5 Things From The New 'Aladdin' Trailer To Get Hype For!
Written by Jordan Cioppa. Published: March 12 2019
(Images © Walt Disney Studios)
The first full-length trailer for Disney's Aladdin was just released today, and we have a "whole new" set of reasons to be excited for this upcoming live-action adaptation! Now I may be slightly biased because I am a huge Disney girl, but this 2-minute, 14-second trailer was everything I needed today. Whether you're a Disney person or not, there is no doubt from this trailer that the movie is going to be nothing short of magical.
Here are five reasons based on the latest trailer why you should be excited forAladdin!
1. Genie
We ain't never had a friend like him, that's for sure, but we sure wish we did! And even more so now after seeing Will Smithtaking on the iconic role. In the trailer, Will starts out blue like the original Genie we all know and love but sheds the shade later on. Blue or not, the "Fresh Prince of Bel Air" actor is staying true to the hilarious nature of Aladdin's magical guide, which is all we can ask for. Of course, Will Smith has some huge pointy shoes to fill, as the Genie is a role that takes a lot of talent, as the late Robin Williams so clearly paved the way for. It has even become a fan-favorite role on Broadway! However, judging from our sneak peak of the newest version of the Genie, Will Smith has this role in the bag (or the lamp...).
2. Jasmine and Aladdin
We didn't get to see much of Naomi Scott, who is taking on our favorite adventurous princess, and Mena Massoud, who is playing the cute street-rat we love to love, in the teaser trailer. That's okay because the longer preview is revealing a lot more about these characters. There was never a question that the two could accurately portray Jasmine and Aladdin, but after seeing a glimpse of the actors in prince/princess form, we get to see just how spot-on Naomi and Massoud are. Jasmine is a girl who knows what she wants and isn't going to settle for anything less. Even for the brief few seconds Naomi appears in the trailer, we can see and hear her strength, which is very important for this role. Massoud is bringing the charm and adventure of Aladdin to life. And it doesn't hurt that these two actually look like the original animated versions!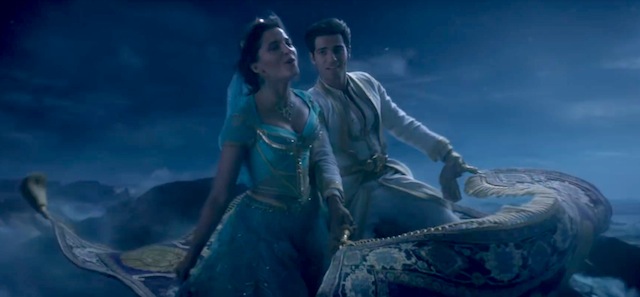 3. The Special Effects
Turning any original animated film into a live-action adaptation can certainly be a challenge because the viewers are expecting it to look like the first, plus so much more. Lucky for us, it has been almost 30 years since the original Aladdin premiered, meaning there have been so many technical advancements in filmmaking that creates the potential for an even more realistic and exciting movie.Aladdin is a film that includes so many intricate effects, like the magic carpet and lamp, and even the fictional yet mystical and detailed city of Agrabah. But from what we can see in the trailer, these factors are enhanced even more beyond belief. From Agrabah to the Cave of Wonders, this new movie is bringing even more charm, aesthetic, and beauty to the "Arabian nights".
4. The Costumes
Speaking of detail, every single one matters in the creation of the costumes inAladdin. As seen in the original, the characters' outfits aren't your typical fairytale ball gowns and tiaras. These costumes are a take on the beautiful, silky, jewel-encrusted, and patterned style of Middle Eastern attire. The animated version did portray these outfits in the best way an animation could, but there is so much more room to elaborate on these costumes in the live-action version… which is exactly what they did. The costumes are beautifully crafted and I was even excited to see Jasmine sporting her iconic teal number in the trailer!
- Jordan Cioppa, YH Contributing Writer