5 Reasons Why We NEED A Sequel To 'Fever Pitch'!
Written by Brittany Taormina. Published: March 25 2016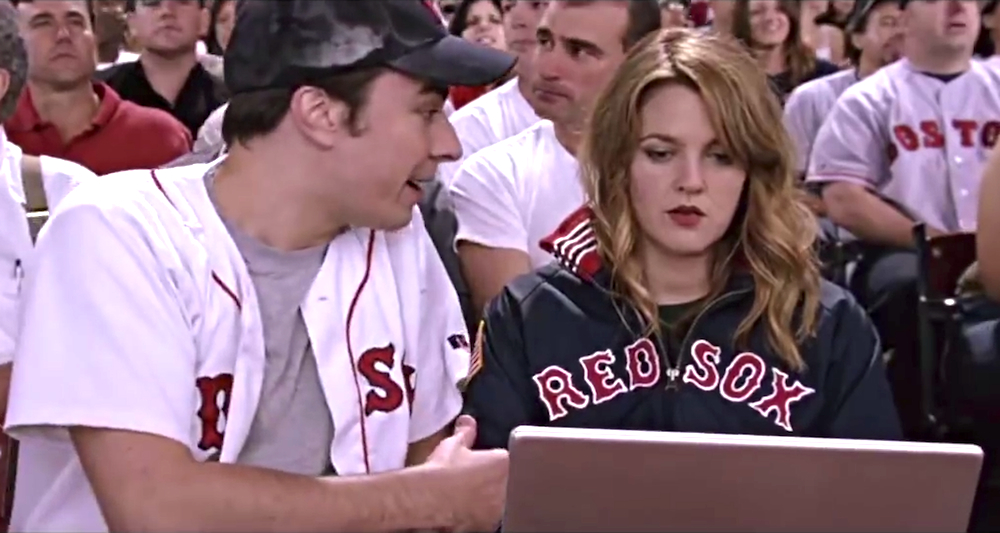 Baseball season is almost upon us (April 3), and who doesn't LOVE a good baseball film? Or a good rom-com? Or a good baseball rom-com? We're referring, of course, to Fever Pitch, the 2005 film that made us fall in love with love AND baseball all over again. We couldn't get enough of Ben's (Jimmy Fallon) Red Sox obsession, but Lindsey (Drew Barrymore) definitely preferred it in smaller doses. All in all, the two ended up finding a happy medium and love.
There's only one thing that would make this film better -- a sequel. Here are five reasons why we want to see it!
1. Jimmy Fallon & Drew Barrymore
We LOVE these two together. They are incredibly funny and have great chemistry on screen. I mean, come on, did you see their 'Dirty Dancing" reenactment on "The Tonight Show"? Go to 8:40 for total EPICNESS!
2. Baby Ben or Baby Lindsey?
You may remember at the end of the movie, after the Red Sox won the World Series, they announced that Ben and Lindsey were going to have a baby. It would be awesome to see the baby ten years later and see if he/she has inherited Ben's passion for baseball. Think of all the new possibilities as Lindsey tries to manage a husband AND a child obsessed with the Red Sox!
3. The Farrelly Brothers
These guys were the directors of the film, and they would need to come back and make the sequel of course. They did such a great job that they actually filmed ON THE FIELD when the Red Sox won the World Series. They did it with FOX News cameras that were shooting the game to not distract the crowd. The original script was supposed to have the Red Sox LOSE (as usual), but they actually got their dream ending! How amazing is that? Check out their reunion in 2014!
4. Date Night Round 2
It wouldn't be right if we didn't have another date night scene. If would be great the second time around because the first started off a little rocky; however, that rocky start turned into a beautiful relationship!
5. Work Hard, Play Hard
Yes, we may have just quoted a Wiz Khalifa song, but it would be really cool to see Ben's students again and Lindsey with her gal pals back at it. From Ben's Red Sox schedule in his classroom to Lindsey's girl talk at the gym, it would be really fantastic to see these dynamics play out once more!
What would YOU love to see if there was a Fever Pitch Sequel?Tweet us!
(Screenshot via YouTube)
- Brittany Taormina, YH Contributing Writer