5 Reasons to Binge-Watch HBO's Docu-Series "The Jinx: The Life and Deaths of Robert Durst"
Written by Nicole Koch. Published: April 04 2015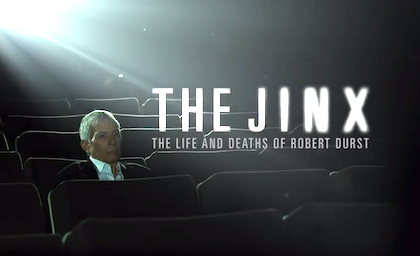 If you love murder mysteries and crime shows, you will be obsessed with HBO's docu-series, "The Jinx", created by Andrew Jareckiand Marc Smerling.
The series has six episodes, each about 45 minutes long, AKA perfect length of time for binge-watching! The show investigates a murder case from the early 1980s, involving millionaire Robert Durst and the three killings he was linked to. Durst has been suspect in the 1982 disappearance of his wife,Kathie. Even more suspicion arose after the 2000 murder of his confidante, Susan Berman, who was thought to be a key witness in the Kathie Durst investigation. Oh, and his neighbor was murdered and dismembered. Yikes!
Durst has consistently maintained his innocence... until recently, when he was arrested for first degree murder on March 14 (the day before the finale aired!). It's literally the craziest thing ever, because the case was cold until the Los Angeles Police Department caught wind of the documentary. Durst's lawyers believe he was tricked into doing the documentary and find the timing of the series suspicious. Durst is now being charged with Susan Berman's murder, and the piece of evidence connecting him to it is SO intense -- I wish I could just say it, but I don't want to spoil it for anyone (unless you've, you know, watched the news lately)! Which brings me to the reasons why people should watch immediately:
1. It shows you the behind-the-scenes, where the directors and producers talk about their strategy to get Robert Durst to speak in interviews. They visit the crime scene areas and discuss all of the details and evidence in the case.
2. Robert Durst DOES agree to do the interviews, and it cuts back and forth from his explanations, to shots of old newspaper headlines and other evidence. They edit it to make it seem like he's describing what's going on in the documentary, which is quite helpful.
3. They actually show you the evidence -- letters to Susan and the police department, photos of Robert and Kathie together, photos of Robert growing up, photos of the dismembered body(!!), and old videos from past court trials. It's fascinating.
4. You feel like a detective or crime reporter while watching. This mini-series makes you feel like you're actually involved in solving the case, which isn't too far from the truth, as the case is still ongoing in real-time!
5. It scares the hell out of you. I just recently watched it and remember putting on a funny movie afterward because I was afraid of getting nightmares… no joke. I wasn't afraid of a murderer coming into my house, but those eyes of Durst's are frightening -- dark, shallow, lifeless. It's seriously the worst. And his ability to lie and twist words right on the spot, with a straight face, is a pure, devilish talent.
Did that convince you? I hope so, because we need as many people on board as possible, while this dude goes back to trial! Visit the websitefor more.
(Screenshot via YouTube)
- Nicole Koch, YH Staff