5 Of The Coolest Stamp Sets You Can Get From The Post Office Right Now!
08-20-2020 by Andi Ortiz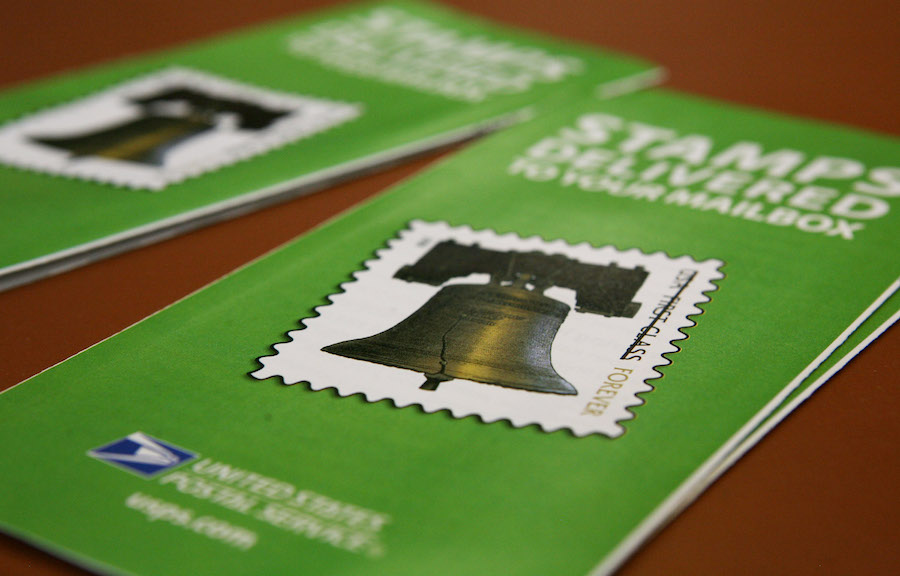 ( © Justin Sullivan/Getty Images)  
The U.S. Postal Service needs help. There's no getting around it; it's a service that's at huge risk right now. It needs funds to continue to exist, and as of last week, it was made clear that the government has no intention of providing those funds at the moment.

The good news is, anyone can help the Post Office. There are multiple ways to do it, but arguably the easiest (and cheapest) way is simply buying stamps. And there are a LOT to choose from.
That said, some are definitely cooler than others. So, to save you some analysis paralysis, we've rounded up five of the best!
1. T-Rex
At the end of the day, dinosaurs are just plain fun. Should we ever try to bring them back through de-extinction? Absolutely not. There are 5 movies telling us In great detail why that's a poor decision, and there's a 6th on the way. But will they add a little whimsy and grit to our mail? Definitely.
Whilethese stamps just focus on the T-Rex, rather than including other dinos, they're still cool.
2. State And County Fairs
A lot of events have been canceled this year. For some, going virtual was an option and, in fact, worked quite well. Sadly, fairs are one thing that can't go online. There's just no way to recreate the smell of a hundred different fried treats virtually – at least, not until Smell-o-Vision makes a return to society.

But withthese stamps, we can at least get a little bit of what a fair brings us. With four different designs, the stamps highlight fair staples, going far beyond fair foods.
3. Made of Hearts
You don't always need a reason to send someone a card. It doesn't have to be Christmas, or a birthday, or condolences. Sometimes it's nice to send someone a card or letter just because you're thinking of them!
The "Made of Hearts" stamp is an easy way to add a little extra love to whatever you're sending. This works especially well for the loved ones you haven't been able to see so much during this pandemic. You might not be able to hug your friends and family just yet, but there are always ways to show extra love.
4. Voices of the Harlem Renaissance
You may not be sending a masterpiece to someone, but that doesn't mean your creation isn't amazing. And as such, it should carry an amazing voice with it.
These stamps highlight the incredible voices of four huge figures in the Harlem Renaissance: writer and philosopher Alan Locke, novelist Nella Larsen, historian Arturo Alfonso Schomburg, and poet Anne Spencer. Their work was vital to the movement, and at a time when BIPOC voices deserve to be elevated more than ever, their work is worth revisiting. We all have much to learn.

5. Save Vanishing Species
With these stamps, you're not only helping to save the USPS, you're also helping to save animal species around the world.
According to the USPS, proceeds from the sale of these stamps will go toward conservation funds for the African Elephant, the Asian Elephant, the Great Ape, the Rhinoceros, Tigers, and Marine Turtles. While it only depicts a tiger cub, let's be real; we've all low-key wanted a pet tiger since seeing Aladdin as kids. (That can't just be me, right?).