4 Reasons Why "The Magicians" is One of the Most Bingeable Shows on Netflix!
Written by Kara Roberts. Published: December 22 2017
With the holiday season in full force, you may be looking for an escape from all the obligatory family gatherings, chaotic shopping malls, and never-ending loop of cheery Christmas tunes. Don't worry – Netflix has the perfect show! SYFY's "The Magicians" is a captivatingly bingeable TV show to help you escape into a world of magic and wonder. With its Season 3 fast approaching – set to air on January 10, 2018 – you will want to be all caught up on the adventures of Quentin and friends.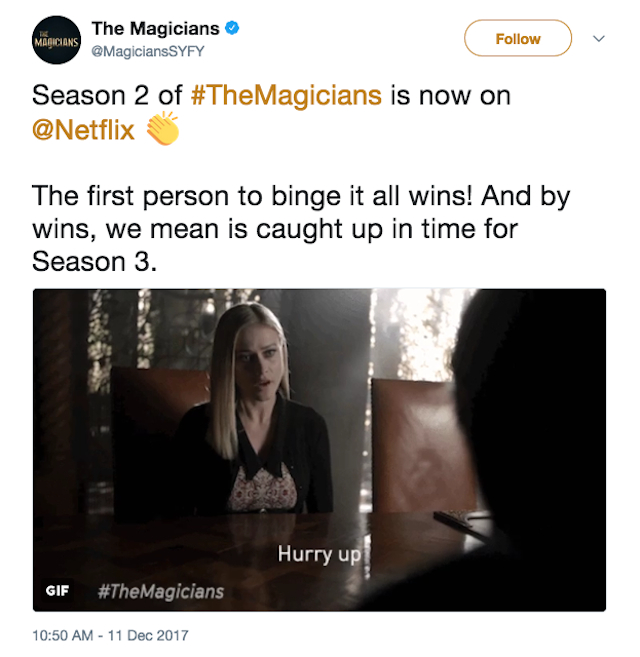 Get your blankets and your hot cocoa ready, here's why you won't be leaving your couch and comfy PJs for a while!
1. Fascinating Story
With its creative storyline – based on the book, The Magicians by Lev Grossman – you will get sucked in! From the outcast lives of hedge witches living in New York City to the bizarre whims of horned gods, malevolent pixies, and talking tree forests in the magical land of Fillory, you will not get bored watching how the lives of 7 magicians unfold.
2. Deep, Emotional Characters
In following the characters' journeys as magicians at Brakebills University, it is impossible not to root for the romantic relationships of Quentin (Jason Ralph) & Alice (Olivia Taylor Dudley) and Penny (Arjun Gupta) & Kady (Jade Tailor). Through their relationship hardships and honest approach to heavy issues, you feel for them and their struggles.
3. Meaningful, Philosophical Themes
Since "The Magicians" is science-fiction, you might be expecting some crazy underlying themes – and you won't be disappointed! With themes of chaos vs. order, explanations of the afterlife, and discussions of human morality and The Soul, "The Magicians" will keep your mind busy! The series is unique in its social commentary on human existence.
4. Witty, Referential Dialogue
The references to contemporary music (Foo Fighters), movies/books (Harry Potter), videogames (Mario), and icons (Beyoncé) will make you feel like the fantasy world they live in isn't so far away! The genre-savvy characters, who show a clear awareness of pop culture as it pertains to their crazy situations, tap the pulse of modern life.
In addition, the catchy music, appeal to Millennial humor, and jaw-dropping costumes will leave you hungry for this riveting tale of a world where anything is possible!
Check out the Season 3 trailer below – after you're done binge-watching Seasons 1 and 2 on Netflix, of course!
(Image via SYFY)
- Kara Roberts, Guest Contributor