4 of Eddie Murphy's Most Classic "SNL" Characters!
Written by Sarah Osman. Published: February 07 2015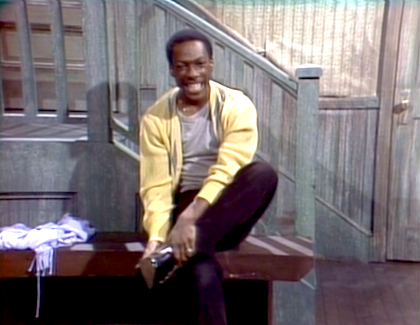 For the first time in 30 years, the incredible Eddie Murphy will return to the stage that made him a star. During "Saturday Night Live"'s 40th Anniversary Special on February 15th, he will make a guest appearance for, his first since 1984. It's fitting considering his undeniable imprint on the show. He created some of SNL's strangest and most memorable characters. In honor of Murphy's return, I present to you five of Eddie Murphy's best characters:
Mister Robinson
A dark parody of the beloved children's show, "Mr. Rogers' Neighborhood", "Mister Robinson's Neighborhood" is a twisted classic. Murphy plays Mr. Robinson, the host of a children's show that is anything but wholesome. I particularly love Mr. Robinson's word of the day, ranging from "scumbucket" to "bastard".
Gumby
Eddie Murphy's take on Gumby sets the bar for oddball SNL skits. Murphy's Gumby is nothing like the happy-go-lucky Gumby of the 1960s claymation TV show -- here he's a washed up TV star who is constantly angry and depressed. Gumby's catch line, "I'm Gumby, dammit!", is a classic in SNL canon.
White Like Me
"White Like Me" is undeniably Murphy's best piece of satire. In the sketch, Murphy decides to transform himself into a white man, and see what life is like if you are white in America. To prepare for his role, he watches endless episodes of "Dynasty" and reads Hallmark cards. As his day goes on, he begins to learn just how different it is to be white. Whodda thunk??
Buckwheat
Poking fun at the awful stereotypes inflicted on the beloved "Our Gang" character from the 1930s, Murphy plays an adult version of Buckwheat in all its cringeworthy glory. In his most memorable appearance, Buckwheat attempts to sing some classic tunes of the era. Only Eddie Murphy could get away with something like this!
What are some of your favorite Eddie Murphy skits from "SNL"?
(Screenshot via Yahoo! Screens)
- Sarah Osman, YH Staff