4 Actors Who Should Play Danny in Fox's Live 'Grease' Broadcast!
Written by Nicole Koch. Published: January 23 2015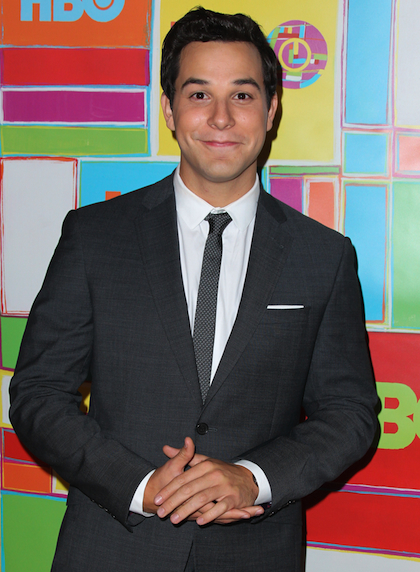 Since the announcement that FOX will be airing a live version ofGrease in January of next year (no doubt piggybacking on the successes they've seen NBC enjoy with their live productions ofThe Sound of Music and Peter Pan in the last couple years), we have learned that Julianne Houghhas signed on to play sweet ingenue Sandy, while Vanessa Hudgens will play Pink Lady vixen Rizzo. As of this writing, they the only ones who have been cast. We're dying to know who might play leading man Danny Zuko, and I have a few guesses/suggestions!
1) Garrett Clayton
He looks likeZac Efron, without actually being Zac Efron. It would be PERFECT. He has the blue eyes, strong jaw, and he's rocked the '50s look in past roles. He sang and danced straight into the hearts of many tweens back in 2013 in Disney Channel's musicalTeen Beach Movie. His character, Tanner, is a surfer in the '50s. His rivals are the Bikers, which, if you squint hard enough, could totally look like Danny's crew, the T-Birds versus The Scorpions.
2) Skylar Astin
This guy could handle being Danny for sure. We saw him act and belt out inPitch Perfect, which was oozing with on stage/screen charisma. He seems to be a little bit of a goofball (a sexy one!), but slick back that hair and throw on the T-Bird's jacket, and I think we've got ourselves an awesome Danny.
3) Ryan Guzman
He showed off his dance moves for us in the Step-Up movies, and he just gets hotter by the minute. Although he has an endearing smile, he kinda has that bad boy look in his eyes (which we get to see in full mode in The Boy Next Door). And isn't that what Danny is all about?! Hard on the outside, softie on the inside?!
4) Zac Efron
As much as I might not 100% agree with this choice, I can totally see FOX casting him. And everyone is talking about him playing the part. I mean, he DOES have a young, sweet face. And he DOES look great in a leather jacket (think back to 17 Again when he gets out of his new car, YUM). We all know he can sing, dance, and act thanks to High School Musical and Hairspray. It sounds like a great choice, though it might get a little awkward acting alongside ex-girlfriend Vanessa again.
I wonder who they will choose? Sound off with your opinion in the comments below!
(Photo via FayesVision/WENN)
- Nicole Koch, YH Staff