3 Revamped Game Shows To Keep Us On Our Toes This Summer!
Written by Mike Dolzer. Published: July 07 2016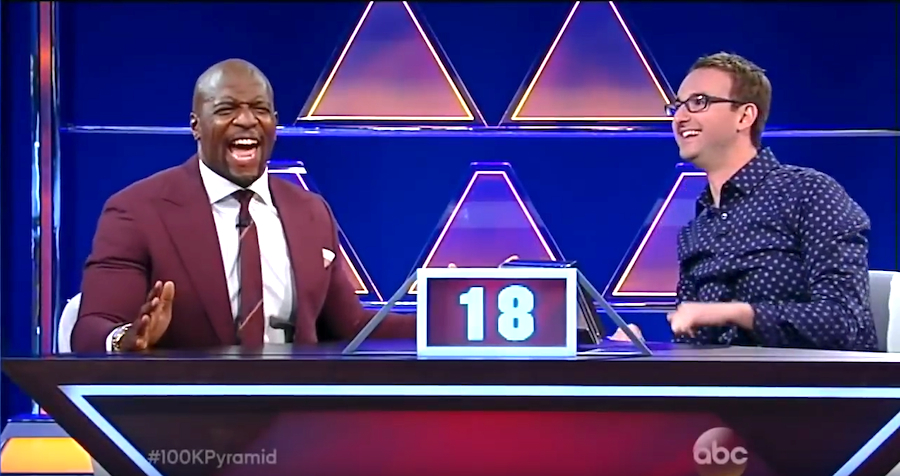 ABC is bringing us back to the good old days of game shows galore this summer with its reboots of classics such as "Match Game", "To Tell The Truth", and "$100,000 Pyramid" to go along with returning hit "Celebrity Family Feud". We watched the premieres of all 3 of the new series, and now we are here to tell you which ones we thought were true winners!
1. "To Tell The Truth" (Tuesdays at 8pm)
A panel of four celebrities listen to three contestants talk about their amazing or outlandish fun fact, except that two of the contestants are imposters trying to trick the celebs into thinking they are the real thing, while only one of them is actually telling the truth. It is up to the celebs to separate fact from fiction and figure out which contestant is the real deal.
If we are being honest, this is the one we enjoyed the most out of the group. We may have just liked it so much because the iconic Betty White is one of the panelists (having been a regular on game shows such as this in their heyday in the '50s, '60s, and '70s, not to mention having been married to legendary "Password" host Allen Ludden), and we are just fine with admitting it! Aside from the always golden Betty, hostAnthony Anderson keeps things moving while still being fun, and we also enjoyed his mama's role as the game's scorekeeper. The subjects in the premiere were interesting too, as they ranged from Taylor Swift's high school boyfriend to a woman who can contort herself into a tiny glass box – and did so on stage! This is exactly what a gameshow should be – thought-inducing and fun – and that's no lie!
2. "Match Game" (Sundays at 10pm)
"Match Game" is where a contestant is given a clue and then must fill in the blank to see if they match what the answers given by a group of six celebrities. The revamped series is hosted by Alec Baldwin, and the premiere episode's panel consisted ofRosie O'Donnell, Sutton Foster, and Tituss Burgess (Peeno Noir!!!!).
"Match Game" was our second-favorite of the games. While Alec Baldwin came across a little Alec Baldwin-ish at times, he was a fine host, and we really enjoyed watching the star-studded panel's answers to some of the ridiculous questions, such as what the press would call a gaggle of Baldwin brothers (my favorite answer was a "babble"). The show was silly without going over the top, and we loved the original "Match Game" (thank you, GSN reruns) so we are glad to have this show back in the fold!
3. "$100,000 Pyramid" (Sundays at 9pm)
"$100,000 Pyramid" is the final piece of ABC's gameshow revamp plan. Hosted by Michael Strahan, "$100,000 Pyramid" features two celebrity guests that pair off with two contestants to see who can guess words or phrases in a game that I can best describe as a combination of "Password" and charades. The premiere episode featured Sherri Shepherd, Anthony Anderson (who took a break from hosting "To Tell The Truth" to hop on over), Rosie O'Donnell (pulling double-gameshow duty), and Kathy Najimy -- who, interestingly enough, appeared on an older version of the show before she became an actress and won enough money from it to pay her rent for 3 YEARS!
"Pyramid" moved a little slower than the other two game shows, and it was a little less fun since we had already seen most of the celebrities on ABC's other shows, but that aside, it is a still a decent reimagining of the classic game show that we will keep tuning into because we love climbing that pyramid!
All in all, we are so glad that ABC has made our game show dreams come true by bringing back these three legendary shows in new iterations. We will definitely keep playing along.
(Screenshot via YouTube)
- Mike Dolzer, YH Contributing Writer