3 Other Arthurian Reimaginings To Check Out If You're Obsessed With "Cursed"!
07-29-2020 by Andi Ortiz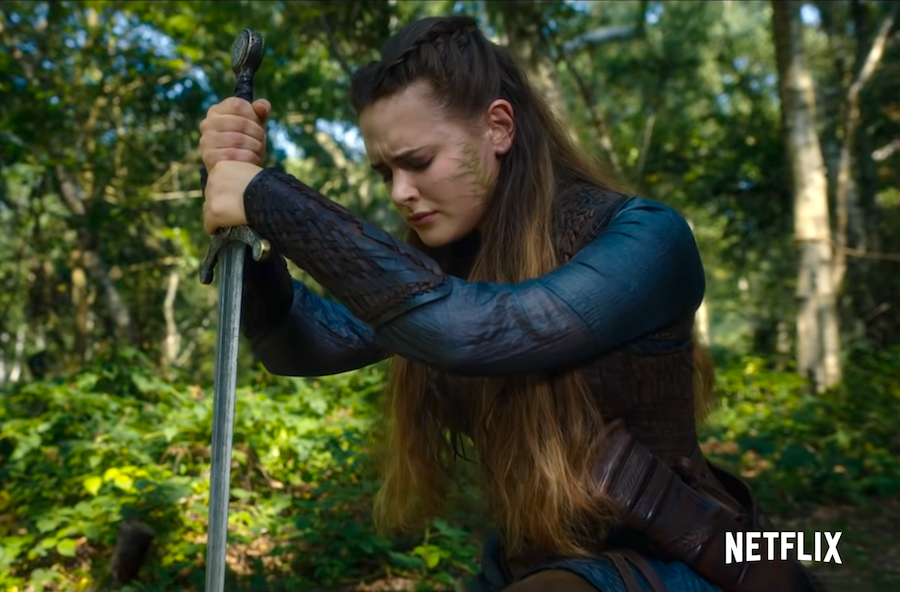 ( © Netflix)  
It's been just almost 2 weeks since "Cursed" debuted on Netflix, and it's quickly established its reign in Netflix's top 10.

The new series asks a common question: What was Camelot like before Arthur became King? But whereas other series have focused on Arthur's story, "Cursed" puts someone new in the spotlight: Nimue. Better known as "The Lady of the Lake", she's a character who's in just about every retelling of Arthurian lore, but little else has been known about her.
Played byKatherine Langford of "13 Reasons Why", Nimue's story begins after her mother's death and her journeys with Arthur, a young mercenary in this retelling, in a quest to deliver a familiar sword to a familiar wizard. As of this writing, "Cursed" has yet to be renewed for a second season, but it's still early for Netflix to decide, and with the show continuing to find traction, fans are optimistic.
In the meantime, there are plenty of Arthurian reimaginings to fill the Camelot-sized hole in your heart. Until Nimue (hopefully) returns to our screens, here's a movie, a series, AND book to keep you fed!
1. TV Show: "Merlin"
There's an argument to be made that the television obsession with Arthurian legend truly began with "Merlin". So if you're looking for another series after you binge "Cursed", this would be the place to start.
Running from 2008 to 2012, the show has found new life on Netflix. It tells the story of Camelot's once and future king long before he became king... long before even Merlin became the powerful figure we know him to be. The series follows a young Merlin as he works for, protects, and befriends a young Arthur, as he falls in love with a young Guinevere as she serves a young not-yet-evil Morgana. Everyone is connected, each story integral to the overall future of Camelot.

Be warned, though; if you're part of the camp thinking that "Cursed" has been too cheesy, "Merlin" won't fare any better for you, as one of its defining features is the campy undertones.
2. Movie: Avalon High
Thanks to Dinsey+, we now have access to nearly all of the classic DCOMs – including Avalon High. It may not be as high profile as High School Musical or The Cheetah Girls, but it has all the ingredients of a 2010 DCOM.
In this retelling, the characters of the classic Arthurian figures have been reincarnated as modern-day high school students. In place of jousting matches, there are football games. In place of the Round Table, there are parties. It's exactly as corny as you want it to be, while still finding ways to be an empowering retelling of King Arthur's story, with a good twist. (Sorry, no spoilers).
And, as a bonus, it stars Britt Robertson and Gregg Sulkin as our heroes. Troy and Gabriella could never.
3. Book: The Guinevere Deception
Like "Cursed", Kiersten White'sbook puts a woman at the forefront of the story. Centered around Guinevere, the story is an important reminder that Arthurian legend is just as influenced by the women as it is by the men. In this story, it's Guinevere who is tasked with protecting Arthur, at the request of Merlin. The only problem is, she's not truly Guinevere. With that, she must figure out her place in the kingdom and how far she can push her powers to protect it.
The story is a bit of a slow-burn, with the bulk of the action happening in the back-third of the book. But for young women looking to continue to see themselves in Arthurian lore after "Cursed", this is the book to tackle.