3 Fun and Unique DIY Christmas Decoration Ideas!
Written by Amanda Baltazar. Published: December 15 2016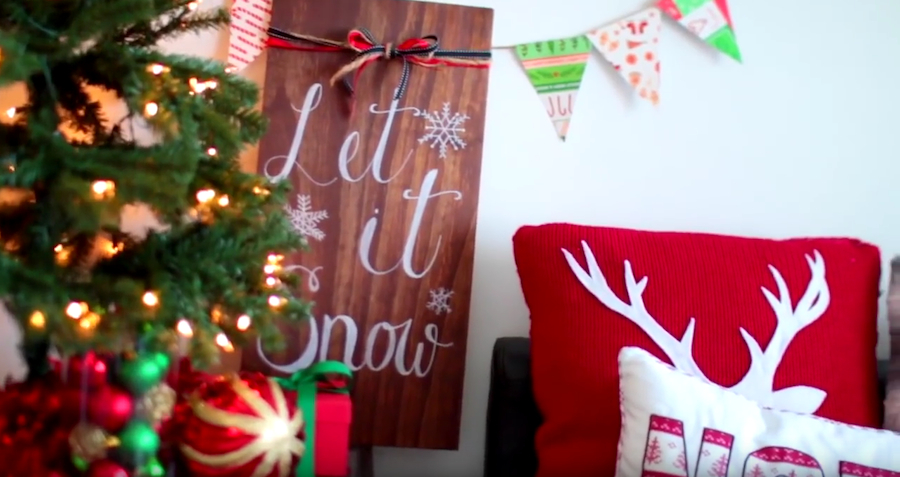 "It's beginning to look a lot like Christmas..." True, Bing Crosby, so true.
It's also beginning to look like you're running out of time to get your Christmas decorating on, and if you're like me and you want some unique holiday decorations that you can make on your own without having to fight the crowds at Target and Walmart and the like, I've found a few great DIY YouTubers who can show us all how to create our own fabulous holiday aesthetic!
Here are my three favorite DIYs and what you need for them, as well as a other DIY decor that these talented and creative YouTubers have created!
1. Wood Wall Art (3:13)
Things You Will Need:
-a plank of wood
-wood stain or paint
-paint pen
-ribbon/twine
-duct tape
Lauren Riihimaki -- AKA LaurDIY -- is a DIY Canadian YouTuber who started doing DIYs at a very young age. She posts DIY for decorations, costumes, backpacks, and pretty much anything you can think of to DIY.
2. Shadow Box Frame (3D Display Picture 4:18) 
Things You Will Need:
-shadow box frame
-scrapbook paper
-holiday accessories and decoration to put inside the box
-paint (optional)
-stickers (optional)
Bethany Mota creates this holiday decor in her holiday DIY video. She also posts videos about fashion, style, make up, beauty tutorials, and of course DIYs!
LaurDIY also has this in her video above. (1:43) In her DIY, you can see that you can use a sharpie to write out words on the frame instead of using stickers.
Head Board Photo Garland (2:30)
Things You Will Need:
-string/ribbon/yarn/twine
-printed photos/sayings
-ornaments/holiday decoration
-push pins
Eva Gutowski (AKA MyLifeAsEva) is known for her beauty and fashion tutorials and vlogging videos.
Tell us if you have any must-make DIYs for the holidays, and if you tried any of these DIYs above, let us know how yours turned out!
(Image via LaurDIY/YouTube)
- Amanda Baltazar, YH Contributing Writer