3 Brands To Check Out If Cottagecore Is Your New Aesthetic!
09-11-2020 by Mary Shannon Donnelly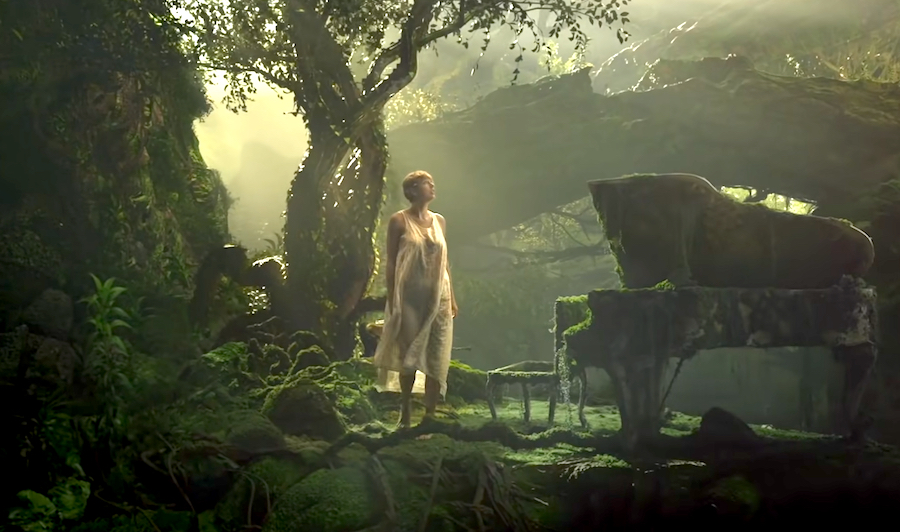 ( © Taylor Swift/YouTube)  
The cottagecore aesthetic might just be one of the most whimsical trends yet. If you are not familiar with cottagecore, it was recently popularized on the internet, specifically through TikTok, and is an aesthetic that is inspired by a romanticized interpretation of the agricultural lifestyle. Just imagine transporting yourself over to a secluded cottage in the French countryside, or perhaps the hills where Julie Andrews frolics in The Sound of Music. This aesthetic brings you back to a simpler time and allows you to enter your ideal fairy tale and was further popularized by Taylor Swift's new album Folklore.

Skipping through the countryside and starring in the next production of Little Women might not be realistic possibility, but you can still represent your cottagecore vibe with your wardrobe! Long flowy dresses and skirts are a must-have in your closet. Cottagecore fashion focuses typically on natural colors: brown, olive, white, light pink, baby blue, pale yellow, and beige. When shopping, make sure to look for button-up blouses, lace, ruffles, and sundresses. Oh, and overalls are always a plus! The cottagecore fashion trend is both romantic and whimsical but focuses on sustainable fashion and eco-living. Thrifting and upcycling your clothing is one of the best ways to turn your closet into a cottagecore fairy-tale.
Unfortunately, not everyone has access to thrift stores in their area, or perhaps they prefer to support eco-friendly brands and stores instead. If this applies to you, or if you are interested in where to shop to fill your closet with your new favorite style, here are 3 brands that incorporate sustainable fashion and embody the cottagecore aesthetic throughout their clothing.
1. Free People
The first brand that exudes the cottagecore aesthetic but brings about a more modern twist is Free People. Following the idea of eco-living, Free People has made it their mission to strive each day to produce lighter-impact items. They have created four initiatives that they have curated for the brand to implement and expand upon each day. First, the company thrives on "Thoughtful Living", meaning designing products with eco-friendly materials and manufacturing them through sustainable processes. Second, the company is working to put more products on their shelves that are "Made with Love" or ethically made by hand. Third, Free People has incorporated "Circular Designs", which are second-hand, or designs that are made using deadstock fabric. Lastly, the company also focuses on creating "Clean Beauty Products" from the formula to the packaging. Besides just the sustainable and eco-friendly aspect that can be found at Free People, their clothing gives the air and feel that cottagecore enthusiasts love so much. Their collections are full of long and flowy pieces, bright floral patterns, plenty of neutrals, and accessories that are perfect for your fairytale fashion collection. In particular, their "Endless Summer" Collection is the place to look for your next cottagecore style dress!
The second store that is perfect for your next cottagecore purchase is Faithfull the Brand. This company was created by Sarah-Jane Abrahams from Australia and Helle Them-Enger from Norway. While the two bonded in Indonesia, the business plan for Faithfull was created and a fashion brand that focuses on comfortable yet chic fashion for travel and relaxation was born. The designs come from vintage and nostalgic fashion of the past yet remain youthful and modern in style and comfort. Faithfull the Brand prides itself on choosing handmade over mass-produced fashion and create products and designs with the help of local communities and artisans. Their goal is to constantly be giving back and to better their brand each day. Their "Memoire" Summer 2020 Collection is the epitome of cottagecore, and their tagline is "Follow us to the countryside for Summer 2020." Inspired by European holidays, rustic countrysides, and walks along the water, this collection is any cottagecore lover's dream come true and perfect for any time of year, not just summer. From bathing suits to crocheted bags, you cannot frolic through the fields without at least one piece from this collection!
Auguste the Label is another brand that takes the eco-friendly and cottagecore idea very seriously. Auguste the Label is part of the initiative entitled "1% for the Planet" and has since pledged to donate 1% of their annual sales to the preservation and restoration of the natural environment. At the moment, Auguste the Label is donating to The Australian Marine Conservation Society and theThe Orangutan Land Trust. The full list of initiatives that Auguste takes part in is available to read on their website. Also available on their website is the brand's newest collection "Her Part 2", which is the perfect twist of cottagecore and beach vibes. The brand is perfect if you are in the market for a new button-up shirt or denim jumpsuit to fit your cottagecore dreams.
Now that you have the perfect outfits and aesthetic to add to your Pinterest boards and Instagram feeds, get shopping and/or thrifting so that you can rock your new cottagecore aesthetic just in time for Fall!