2016 'Star Wars' Holiday Gift Guide!
Written by Sarah Osman. Published: December 01 2016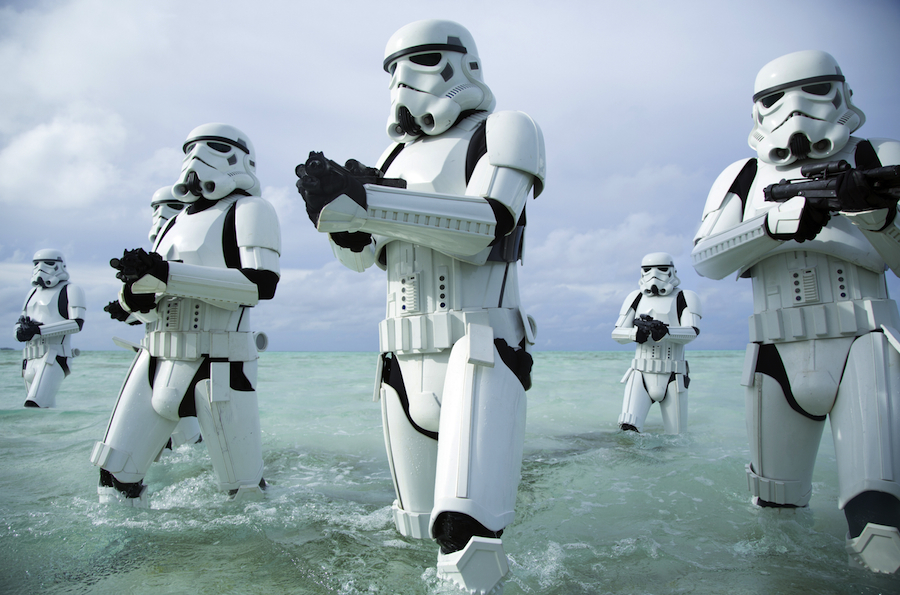 Now that it's officially Holiday Season, radio stations are cranking up their Christmas carols and you can smell pine trees on every corner -- which also means the added stress of holiday shopping and gift-giving. For some friends and family members, finding the perfect gift is a breeze, while for others it can be an incredibly arduous journey. However, if you have a Star Wars-lovin' friend or family member, then you can get quite creative with your gifts, as the amount of Star Wars-related paraphernalia is mind-boggling. Here are just a few of the Star Wars gifts you can surprise your loved ones with this holiday season!
Star Wars: Battlefront
Ideal for the ultimate gamer in your life, Star Wars: Battlefront is an online multiplayer shooter that puts you in the center of the Rogue One battle. The Rebels take on the Empire on various planets in a galaxy far, far away, and on December 6, the final DLC pack drops and will let players experience the final battle from Rogue One ten days before the film is released. Players will also have the chance to play as some of the film's new characters, such as the new heroine Jyn Erso and villain Director Krennic. The game is available on Amazon for $39.99.
LEGO Star Wars: The Force Awakens
WhileStar Wars: Battlefront is ideal for serious gamers,LEGO Star Wars: The Force Awakens is ideal for casual ones. The previous LEGO Star Wars games are simply adorable -- there is something so satisfying about seeing Yoda in LEGO form -- and The Force Awakens is no different. And if you're not very good at video games (like me), the LEGO games are perfect as they never let you die in the middle of a level; you just come back to life! The game is available on Amazon for $34.99.
The Art of Rogue One: A Star Wars Story
If you have a friend who loves to watch the special features on Blu-Rays and is obsessed with Baz Luhrmann's art direction, then this item is for you. A beautiful hardcover book filled with sprawling visuals from the film, The Art of Rogue Oneeducates readers on the film's art direction, costumes, and film designs. The Art of Star Wars: The Force Awakens was tastefully done, so there is a high chance that The Art of Rogue One will be as well! The book is avaliable for $34.65 on Amazon.
Star Wars: Rogue One Razors
Have you got a handsome fella in your life who loves Star Wars? Furthermore, does he have a mustache that needs constant trimming? Perhaps a Movember 'stache that requires removal? Then you might want to get him a Star Wars-themed razor. Yes, they're real, and just as absurd as they sound, but they're actually pretty cool. Gillette has a Fusion Proshield Razor modeled after Darth Vader, so your fella can be cleanly shaven and either take on (or join) the Empire. The razors are avaliable on Amazon for $16.00.
BB-8 Tea Set: If you have a friend who loves tea (like me!) and BB-8 (like me!), then this is the perfect gift for them. This quaint little tea set is half cup, half teapot and can hold 12 ounces of tea. Now your friend can have the cutest tea party in the galaxy! (Just tell them to maybe not invite R2-D2 -- he may get a little jealous of how cute BB-8 is). The tea set is available on ThinkGeek.com for $20.00.
"Yoda Best Dad" Mug
Does your dad love Star Wars? Better yet, does he love dad jokes? Then this mug will incorporate his two great loves! Adorned with the adorable pun, "Yoda best, daddy," this handcrafted mug is perfect for your dad's cup of morning joe. The mug is avaliable on Etsy for $14.00.
If theStar Wars fan in your life doesn't like actual gifts, then you can always just take them to see Rogue One: A Star Wars Story when it lands in theaters on December 16!
(Image via Lucasfilm/WENN)
- Sarah Osman, YH Contributing Writer