2013 Hollywood Halloween Round-Up!
Written by Katie Marzullo. Published: November 01 2013
It's that time again! Another Halloween in the books, and once more, the celebs brought their A-games when it came to costumes! Here are just a few that were caught getting into the Halloween spirit!
Tika Sumpter was a FIERCE QUEEN in her gorgeous Nefertiti get-up!
Heidi Klum turns it out big time every year, and while this might seem simple, you have to appreciate the level of detail going on here... this is a TOP RATE old age make-up!!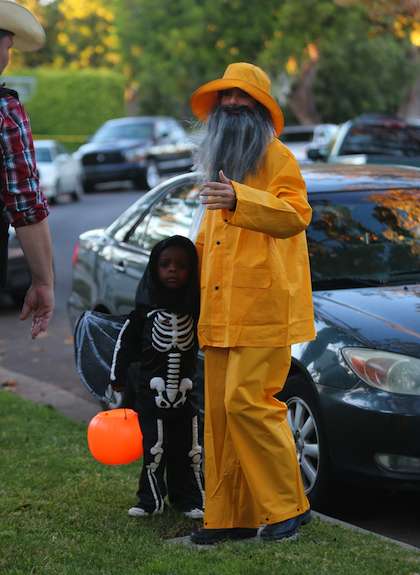 Who's that hiding behind that long gray beard? Why, it's Sandra Bullock, serving Gorton's Fisherman realness while out trick-or-treating with her son!
Another fisher(wo)man on the wharf is Sandy's BFF Melissa McCarthy! Land ahoy!
Kelly Ripa and Michael Strahan, along with their "Live with Kelly & Michael" crew, pay homage to the FX's biker drama "Sons of Anarchy".
George Kotsiopoulos's Lorne from "Angel" costume might be about 10 years too late, but it's still awesome! We approve!
Not sure what exactly Christina Milian or Jenna Ushkowitz are supposed to be, but Shenae Grimes is clearly Poison Ivy!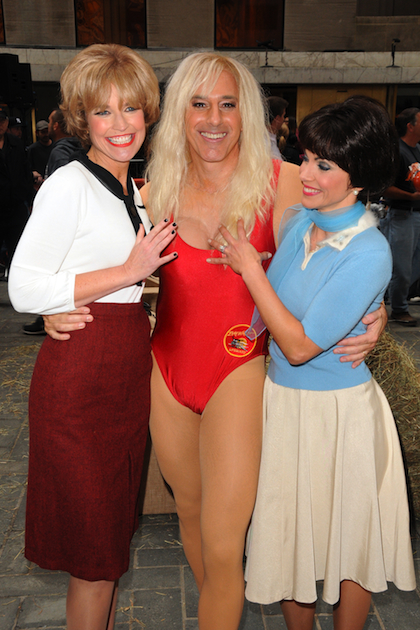 Over at the "Today Show", Matt Lauer displays an impressive tuck in a (slightly disturbing) "Baywatch" getup, while co-hostsNatalie Morales and Savannah Guthrie pay tribute to Laverne & Shirley.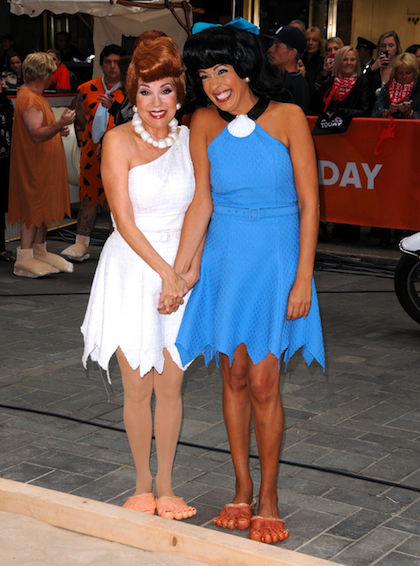 Meanwhile,Kathie Lee Gifford and Hoda Kotbget their yabba-dabba-doo on as "The Flinstones" babes Wilma and Betty!
Where in the world is Naya Rivera? Underneath this sexy Carmen Sandiego get-up!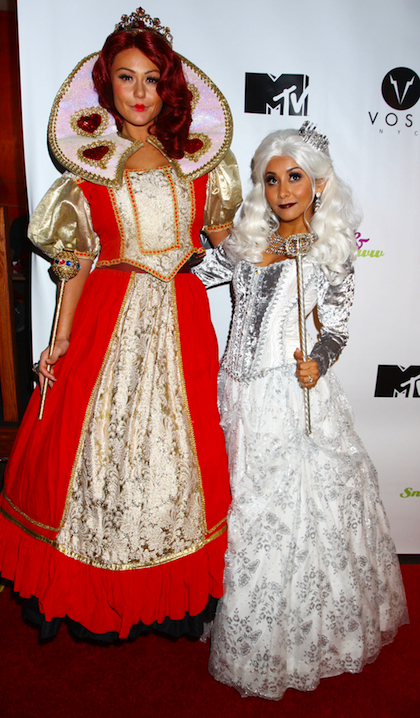 The Queen of Hearts and the White Queen were never so tan thanks toJWoww and Snooki!
Kelly Osbourne looks properly dazed and sticky as a post-pig's blood Carrie... I assume whichever party she attended ended better than Carrie's prom.
I am personally loving this Little Shop of Horrors-inspired costume by British comedian Jimmy Carr, as the sadistic dentist Orin Scrivello, D.D.S. (as portrayed by Steve Martin) holding an adolescent Audrey II!
Lady Gaga -- Jury's still out as to whether or not this was a Halloween costume or just Thursday.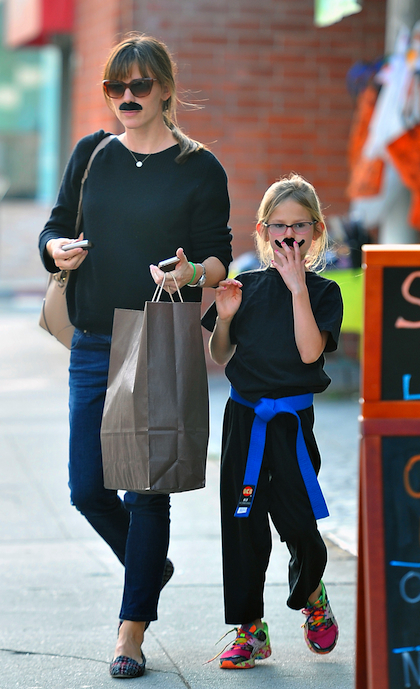 Either this isJennifer Garner & daughterViolet's Halloween costumes, or they're getting a headstart on #Movember.
After spending an entire movie avoiding this sort of thing, looks like fate finally caught up to Shaun of the Dead star Simon Pegg!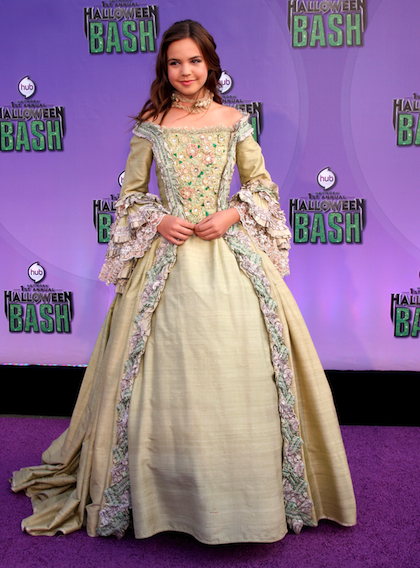 Our gurlBailee Madison is pretty as a painting in her gorgeous Rococo gown!
David Arquette gives us all nightmares in this unintentionally(?) terrifying Bozo the Clown costume.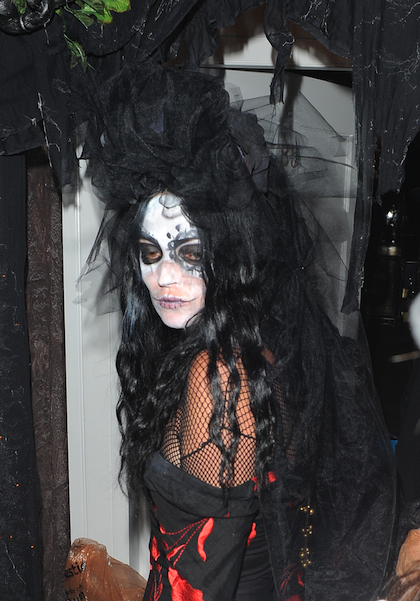 SupermodelKate Moss is muy fierce in full Dia de Los Muertos make-up.
Elsewhere, Alana Thompson (aka Honey Boo Boo) and her family channeled another famous reality TV family, theKardasians, with Alana herself confirming her HBIC status by dressing as momager Kris Jenner. I think this is kinda genius, actually...
Hope y'all had a Happy Halloween!
(Photos via WENN; Honey Boo Boo photo via TLC)
- Katie Marzullo, YH Staff Editor