ICYMI: 2 Upcoming Star-Studded Films Tackling The Issue of Conversion Camps
Written by Meg Spaulding. Published: August 11 2018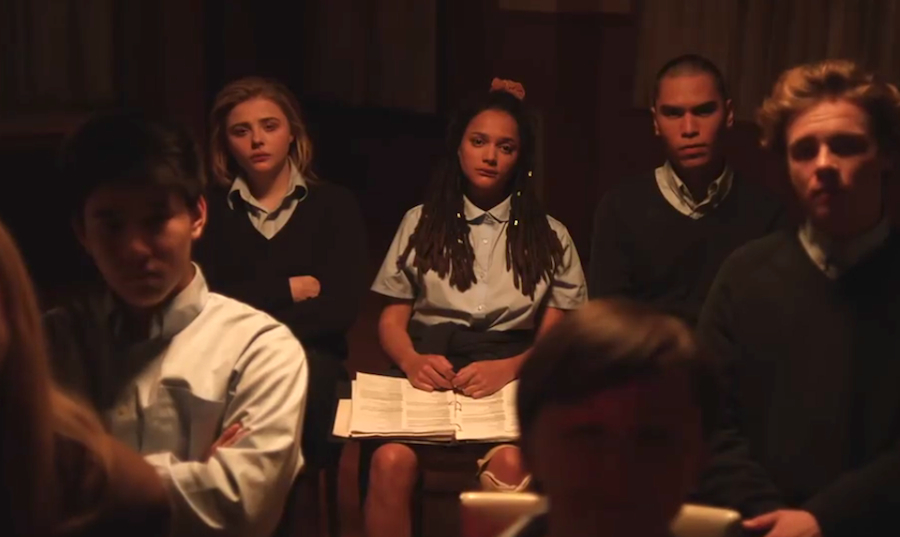 Two movies are due to come out this fall with very similar set-ups. Boy Erased and The Miseducation of Cameron Post are both stories of young people sent to gay conversion programs. Conversion centers like the ones in these films are still in operation, and they aim to "convert" young people into being heterosexual. As you can imagine, these centers cause a lot of harm to their attendants, many of whom are sent against their will. These two upcoming movies tackle this from different perspectives—in Boy Erased, we see an older and more conflicted participant, and in Cameron Post, we see someone younger and yet more sure of herself and her sexuality.
The Miseducation of Cameron Post is based on a novel written byEmily M. Danforth. Its director, Desiree Akhavan, said she hoped it could be something like a queerJohn Hughes movie. Cameron Post, played byChloe Grace Moretz, lives with her aunt, until she gets caught making out with her girlfriend after prom. Her aunt sends her away to a boarding school in the woods called God's Promise. It is, of course, focused on re-orienting its students through prayer and therapy. Cameron knows this isn't going to work, and she and her friends form a quiet resistance by agreeing to embrace their true selves. Her friends, played by Sasha Lane and Forrest Goodluck, play along with the therapies while having their own fun when they can. Sounds John Hughes-like to me! Cameron Post won the Grand Jury Prize at Sundance this January, which makes me even more excited for its wide release. You can watch it now, as it is currently playing in select theaters, although I have a feeling it might hit more theaters come awards season.
Boy Erased, as you might have guessed, is about a boy sent to a program similar to God's Promise. His is called Love in Action and operates under the same principle that prayer and conversion therapy can restore its students' heterosexuality. The film is based on a memoir by Garrard Conley. Lucas Hedges, who stole all our hearts as the closeted Danny O'Neill in Lady Bird, plays 19-year-old Jared Eamons, who is outed in college and sent to Love in Action by his parents. His father, played by Russell Crowe, is a Baptist minister, and his mother, played by Nicole Kidman, is just as religious. Jared has to deal with the confusion of being hurt by his parents, even though he knows they think they're doing the right thing. He'll also make new friends, includingTroye Sivan! Well, a character played by Troye Sivan, anyway. This marks Sivan's first big role in an American film, despite doing some acting in Australia. It seems like the Australians stuck together in this one, as Aussie Joel Egerton directed the film and plays the leader of Love in Action. We have a bit longer to wait for its release; you can watch it in theaters starting November 2.
I know these movies are going to be sad, but it also seems like both will have uplifting moments of finding community and self-acceptance. Set in two different eras (Cameron Post is set in the '90s, whileBoy Erased seems to be present-day), and focusing on two different genders, these films will offer two looks into the often-secretive process of conversion therapy. If you've seen the campy classic But I'm a Cheerleader, you might have some idea of what to expect, minus the satire. I'm sure we'll be hearing more about these two new films very soon, and I can't wait to watch these both, possibly one after the other for maximum effect.
(Image via Filmrise)
- Meg Spaulding, YH Contributing Writer