11 Bangers To Jumpstart Your Summer Playlist!
04-28-2022 by Jessica Espinoza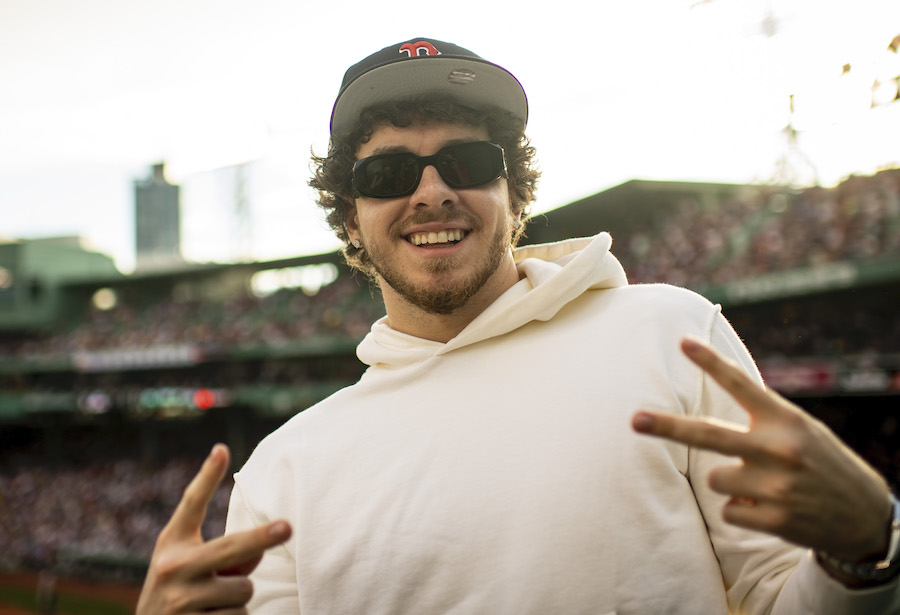 ( © Billie Weiss/Boston Red Sox/Getty Images)  
After a year of waiting to bask in the sun or some free time for a road trip with your friends to a beachy place, your playlist probably needs some updates. Here are some songs to match your hot Summer madness coming up soon!
1. "As It Was" by Harry Styles
Making its debut on April 1, Harry Styles has released another hot banger that continues to top the charts since its release. This is a good song for setting the mood, starting your drive, or your big beach lay after finding the right spot. Maybe a tune to try out your TikTok dance moves too!
2. "First Class" by Jack Harlow
Jack Harlow drops hit after hit, and not only is he taking over the TikTok music scene, but we also just know he will be taking over your super Summer playlist this year too. He teased on the social media app that he was sampling Fergie's "GLAMOROUS" for his song, and it created so much buzz that the single was released earlier than scheduled. This has to be on the list -- bop your head on the beach with vibey beats.
3. "Drunk (and I Don't Wanna Go Home)" by Ellie King and Miranda Lambert
Funky beats, steady tambourine, and danceable pop sounds are what make this song a must on a girl's night out Summer playlist. "GRWM summer power-up playlist" is just the place for this unexpected country-pop-dance song. Elle King and Miranda Lambert knew what they were doing when they dropped this banger.
4. "Better Days" by NEIKED, Mae Muller, Polo G
There's nothing better than a beach day with your friends, this song blasting from the speakers, and open, clear waters calling your name -- a poppy beat to groove to in the background as you talk with your friends, soak up the sun, or play a game of beach volleyball. No more sitting around for better days, grab some friends and take a trip chasing the sun!
5. "Pepas" by Farukko
The most recent "it" party song, if you don't already have this in your Summer party playlist, fix that now! This guaracha electronica track (a Colombian take on Latin Tribal House music) has everything you need to hype up the mood for a Summery day (or night) out. Scream the lyrics at the top of your lungs; careless moments with your friends under the sun are core memories for the future.
6. "Blow" by Jackson Wang
Jackson Wang, known for his international hit "Bullet to the Heart", came out with another smash, "Blow", in March. This song has that dirty, grungy guitar sound and a steady beat that just makes you addicted. Not just the music, but his voice is something that should be played for all to hear. Another tune that should be added to the GNO/GRWM anthems.
7. "The Feels (YVES V Remix)" by TWICE
I tend to be really picky with remixes of songs, but this version of TWICE'S "The Feels" keeps me off my chair. This is a song that can be played out loud on the exciting drive to the refreshing blue waters. With a sticky sound and even more catchy dance moves, this song has to be added to a hype Summer playlist, a must for the long road to the beach.
8. "La Boca (Remix)" by Mau y Ricky, Camilo, and Lunay
The classic sounds of Latin beats are perfect for a beach day, and if you decide not to add anything Latin into your playlist, I respect it... but it just couldn't be me. Nothing beats the fresh, beachy vibes Spanish music brings, and this song is just the right vibe for a day out in the sun. This is another song to blast from your speakers as you sunbathe on a towel with your friends, or something to dance to while you get ready for an eventful night out.
9. "Ms. Jackson" by Outcast
A classic. Everyone and their mothers and aunties know this song and have heard its absolute amazingness. But even then, this 2000 hit should be added to a Summer vibe playlist even in 2022, maybe not for the hype drive to the party, but for that recharging drive back home. Just the right amount of hype with room to prepare for the rest of the night, or the adventure that is about to be had.
10. "End Up Here" by 5 Seconds of Summer
Let's be realistic, 5SOS have released many hits in their musical career, but nothing compares to their self-titled album. That throwback listen hits the spot every time. This is good for a drive out on a hot Summer day, windows down, stereo blasting, and a straight road right towards the shore. It's not about relating to the song, but it's about finding the perfect song to scream at the top of your lungs. Heavy guitar, heavy drums, and the mesmerizing voice of Luke Hemmings... a totally perfect mix.
BONUS: "KIDULT" By SEVENTEEN
Okay, maybe I am a little biased because this is literally my favorite song, but it is just so great for that end-of-day drive back from the beach when you need the chill music to help you keep awake. The theme of the song also perfectly matches the life you want to live during your Summer months -- releasing your inner child guilt-free. What's a better theme to end a Summer day?
There are many different genres and artists to choose from; hopefully, one or more of these songs finds home in your fantastic Summer playlist for the upcoming 2022 adventures. Just remember to stay safe, happy, and healthy!