10 Reasons You Need To Be Watching Hulu's "Harlots"!
Written by Katie Marzullo. Published: July 11 2018
Of all the great injustices of modern entertainment, the fact that so many people are sleeping on Hulu series "Harlots" tops them all.
For those of you not in the know (and apparently there are many of you… too many!), it would be my pleasure to get you up to speed. "Harlots" is a period drama that takes place in 1700s London and follows the lives of those women working in The World's Oldest Profession. The main conflict involves the rivalry between run-of-the-mill, trying-to-move-up-in-the-world brothel owner Margaret Wells (Samantha Morton) and high-end madam Lydia Quigley (Lesley Manville). The two constantly butt heads as they struggle to survive the only way a single woman can in this oppressively patriarchal society.
Season 1 premiered in March of last year to very little fanfare, and Season 2  premieres today with seemingly even less fanfare. If you haven't started already, you can still catch up with the first season (which is only 8 episodes) before jumping into the new one. And believe me, you want to. Here's why!
1. Surprisingly Tame
For a show about prostitutes, it actually has way less graphic sex than you might think. Most of it is pretty PG-13, and in all of Season 1 alone, I the amount of nudity is pretty scarce. In fact, the show features more male nudity than female. Go figure! So yeah, you could actually watch this with your mom! (Okay maybe not, but you get my point...)
2. Intrigue
Sex is actually pretty incidental on this show. The core issues deal with women's rights during this era and how few choices they had if they were not "kept" by some man or another (father, husband, lover, etc.). The struggle for survival and some modicum of independence was real, as were the prejudices against such women, which make for some rather intense situations that these ladies have to go through.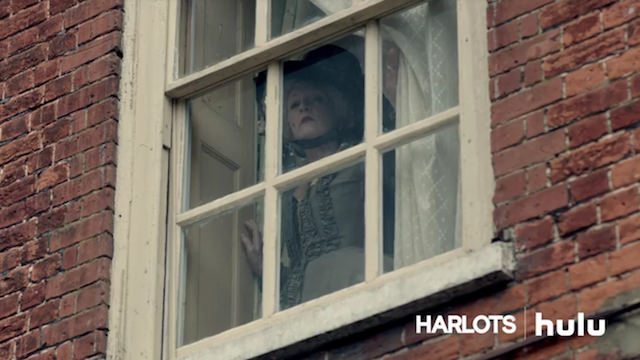 3.  A-List Performances
It's easy to forget about the lack of R-rated sex scenes when you're too busy being mesmerized by this outstanding cast. Morton and Manville alone could carry the series, but the supporting cast, which also includes Jessica Brown Findlay ("Downton Abbey"),Danny Sapani (Black Panther),Kate Fleetwood (Harry Potter and the Deathly Hallows: Part I), Liv Tyler (in Season 2), and tons more, are like a gaudy smear of rouge on a finely powdered cheek. Of course, it's easy to give such great performances when you have…
4. Top-tier Writing
Again, you won't miss the tawdry sex scenes because the writing is too good a distraction. With any period piece, one runs the risk of sounding too modern, either because the writers are afraid of alienating audiences or because they don't know what they're doing. Neither of those seem to be the case here, as the dialogue feels wholly authentic without being quaint or losing its emotional impact. You don't know what a real burn sounds like until you hear it through the lips of an 18th-century hooker! Oh, and about that writing…
5. Female-led Creative Team
The entire production is exclusively written and directed by women. That's right, it was created by women (Alison Newman andMoira Buffini), it is written by women (Newman, Buffini, Hallie Rubenhold, Jane English, Cat Jones, and Debbie O'Malley), and the episodes are directed by women (Coky Giedroyc, China Moo-Young, and Jill Robertson).
[Hold For Applause]
This probably explains the lack of sex and female nudity, and quite honestly these ladies prove that you CAN have a sexy, well-written show without being graphic. And not only that…
6. LGBT and PoC Representation
I know it may come as a shock to many, but gay people and black people existed in society long before they were "allowed" to. "Harlots" acknowledges this and all the better for us as viewers. There are at least two interracial relationships in the series and one of them is LGBT to boot. People of Color are shown to be productive members of society instead of infantilized, victimized, or ignored altogether as so many other period pieces are wont to do. Yes, they are marginalized, but they are MORE than that. They are people, and they matter to the story in ways other than just showing how "racist" the past was. The show also deals with a lot of body-positivity, with a prominent character who is overweight yet gets plenty of work thankyouverymuch. There's also a little person in Season 2 who is just as capable in her career as anyone else.
And this is yet another reason I am so salty about the show's lack of recognition at awards shows and such – every year for the past few years, folks have been yelling about "diversity" and more opportunities for women (especially women over 40), and here is this SHINING PEARL of diversity and feminism laid at their feet (and with a 95% rating on Rotten Tomatoes), and it's being thoroughly ignored?? Seriously??
7. Positive Female Relationships
Quick, name a prestige drama of the past few years that actually features female characters who aren't constantly in competition with each other for some dumb reason… I know, it's hard to think of one, huh? Aside from the main conflict of "Harlots", sisterhood is a big theme, both literally and figuratively. Margaret Wells has two daughters who both work in the Profession, but you never see them bicker or compete with each other. On the contrary, they are very loving and supportive of each other. By the same token, Margaret is close friends with another local bawd, Nancy (Fleetwood), who always have each other's backs instead of stabbing them because "chicks amirite??". That's not to say that these girls don't have their fair share of disputes from time to time – with an almost all-female cast, that's just unrealistic – but by and large, the characters are more likely to stick together than get into pointless cat fights.
8. Fabulous Gowns
Yeah, the only porn on this show is of the costume variety. If you're into period-accurate fashion, makeup, hair, or interior design, this show is a definite feast for the eyes. This entire show is a master class on verisimilitude.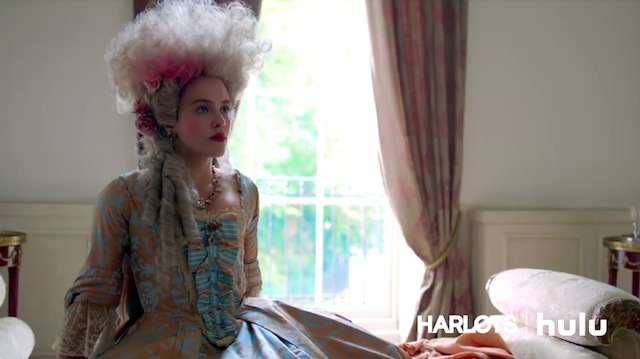 9. Modern Soundtrack
As spot-on as the show is presenting an accurate account of contemporary 18th century life, the soundtrack goes in the opposite direction, featuring primarily modern music… and I ain't mad at it. I fact, I downright dig it. Somehow, it works. Rock music at its essence is the genre of rebels, and there was no one more rebellious in 1700s London than Ladies of The Evening…
10. Expand Your Vocabulary
If you wanna learn a few new fun euphemisms for male or female private parts, look no further! Who says TV can't be educational?
With so many networks and shows struggling to adapt to the changing atmosphere in entertainment nowadays, "Harlots" has been ahead of the curve this whole time, and they're doing it smartly. So what are you waiting for? Do yourself a favor a pay a call to Hulu now – I promise you will be very satisfied!
(Images via Hulu)
- Katie Marzullo, YH Staff Editor