10 Kindle Unlimited Must-Reads: Enemies-to-Lovers!
Written by Heather Van Ness. Published: October 05 2022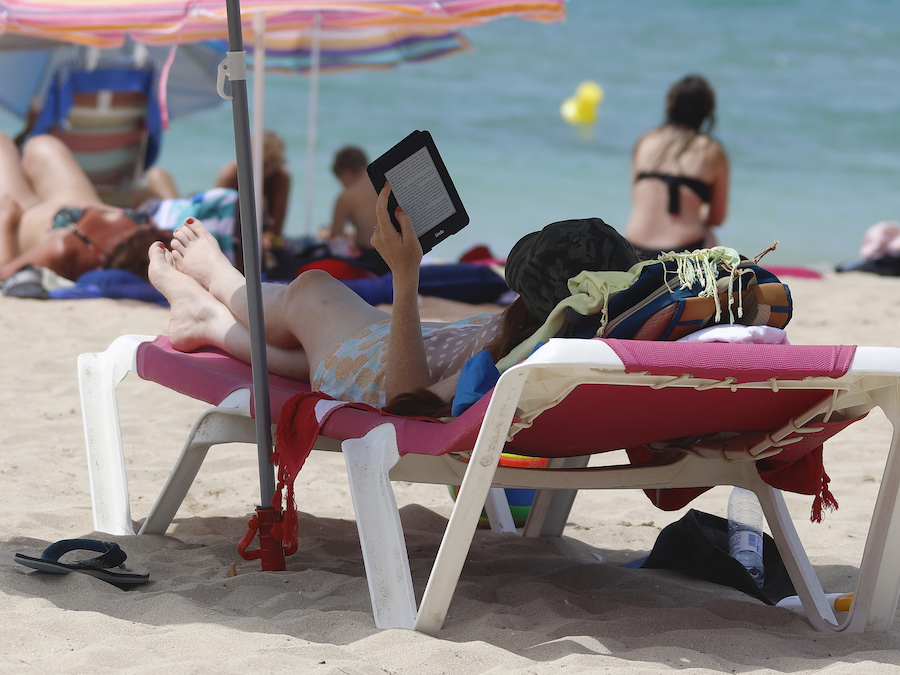 ( © Clara Margais/picture alliance via Getty Images)
There's nothing quite as sweet as watching two people who previously despised each other grow to value and even love one another. Kindle Unlimited is home to a plethora of romances that center around the Enemies-to-Lovers trope, and they're pretty spicy. For those who don't know, Kindle Unlimited is a subscription-based book service under Amazon where you can check out select titles. It's become a place where indie and self-published authors can share their books on their own terms and make a decent buck while they're at it. Let's check out some Enemies-to-Lovers stories that'll make you blush! 
1. Daughter of the Pirate Kingby Tricia Levenseller 
Starting on the tamer side! This is Levenseller's debut novel and the first in a trilogy! 17-year-old Alosa is sent by her father, the Pirate King, to retrieve an ancient map aboard an enemy ship but is captured in the process. She must plot her escape and secure the map if she's to impress her father. Things would be easier if Riden, a member of the strange crew, wasn't unexpectedly clever, absurdly attractive, and always one step ahead. The perfect read for the pirate lover in all of us! 
2. Dance of Thieves by Mary E. Pearson
This is another young adult story that will scratch that enemies-to-lovers itch! Kazi is a soldier sent by her queen to search for a long escaped criminal. The only problem? He turns out to already be dead. When Jase's father dies, he becomes the new leader of his family's legacy – a small city. As their paths cross, a riveting game of cat-and-mouse ensues and romance brews. In the end, Kazi and Jase will have to decide where their loyalties truly lie. 
3. Sorcery of Thorns by Margaret Rogerson
Harry Potter fans will love this young adult story filled with whimsical magic, talking grimoires, and loyal demons. Elisabeth lives in a Great Library and can communicate with the grimoires around her. It's an innocent gift, until her connection to them alerts her to a gruesome murder. As the only one at the scene, she is immediately arrested. Her sworn enemy and sorcerer, Nathaniel Thorn, is charged with transporting her to the capitol for her trial. Their adventures lead them to the heart of a conspiracy greater than either of them could have imagined. 
4. Check Mate by Leah Brunner
Raise your hand if you're obsessed with the "there's only one bed" trope in romance! Hmm... We see you, and we give you: Check Mate. David and Isabella can't stand each other, but when a stupid bet and one giant misunderstanding leads them on a camping trip, it only gets worse. They have to share a tent the entire time! Will they survive or tear each other to shreds? 
5. Bow Before the Elf Queen by J.M. Kearl 
Layala's been training all her life, waiting for the High Elf King to steal her away for marriage. The day he does, she'll be ready to take revenge for the death of her parents. Only, when he stands before Layala, he's not what she was expecting at all. Nothing could have prepared her for the handsome warrior determined to marry her. 
6. I Hate, I Bake, and I Don't Date! by Alina Jacobs
Witty banter? Check. Comedy gold? Check. Tess is fired by her boss, Beck Svennsson, right before rent is due. Understandably, she hates his guts. So, she's appalled when he desperately needs her to fake a relationship with him so that he can maintain custody of his little sisters. She's appalled… and curious.  
7. Untainted by Lilian James
Vera is not human, but she pretends to be because that's what she's done her whole life. She's also gotten good at wielding a weapon, something that comes in handy when she confronts a strange man tailing the Crown Prince. The man knows immediately that Vera is different, even if he tries not to like it. 
8. Scorpio Hates Virgo by Anyta Summer
We've got a slow burn romance here! Get it while it's hot! Percy Freedman is a sarcastic Scorpio. Callaghan Glover is a practical Virgo. The two neighbors clash as Percy prepares to sell his aunt's house, and Callaghan comes to terms with his sexuality. This spicy read will have you wishing you had neighbors like this!  
9. Vicious by LJ Shen 
Vicious (yes, like the title) and Emilia have history. Ten years ago, they shared a moment that nearly destroyed everything. Vicious swore to forget, and Emilia fled to NYC. Now, Vicious has tracked her down and pledged to take her back home, and he's not taking "no" for an answer. It's a steamy story with plenty of WOW moments. 
10. Ruthless Rival by LJ Shen
20 years ago, Arya Roth kissed Christian Miller, her housekeeper's son. The feelings that bloomed set off a chain reaction that pulled them away from each other. Now, Arya is 32 and a successful publicist, but her professionalism is tested when one of her clients is sued by their former employee. Who? Christian Miller. He quickly realizes that Arya doesn't recognize him, and maybe that's a good thing in their current bitter dynamic. After all these years, he still can't hide how he feels, no matter how hard he tries.
Happy reading!