Wiz Khalifa's joy at Amber Rose's pregnancy news
09-07-2012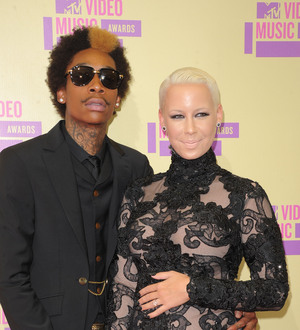 Wiz Khalifa was so excited to learn his fiancee Amber Rose was pregnant he celebrated with a backflip.
Just like Beyonce revealed she was with child before the MTV Video Music Awards last year (11), the model announced she was expecting on the red carpet by donning a skintight lace dress to accentuate her growing baby bump, with the Black and Yellow hitmaker shouting, "We're having a baby!"

Wiz Khalifa has now opened up about the moment he found out he was set to become a dad, admitting he could not keep still.

He tells MTV News, "We found out this summer, and it was more of a celebration than anything. I did a backflip; she was doing this little dance that we made up."

And the busy 24 year old has promised to clear his schedule when the newborn arrives: "I've been pretty focused my entire life, and now that I have a family, I'm just going to keep that focus, but it's going to be a family focus."