TV producers blasted by parents watchdog for Nicki Minaj incident
Written by . Published: August 06 2011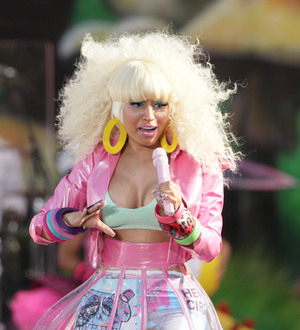 Good Morning America producers have come under fire from a parents watchdog group after failing to prevent the broadcast of Nicki Minaj's wardrobe malfunction during the rapper's live performance on Friday (05Aug11).
The Moment 4 Life hitmaker was left red-faced after her bra top slipped down while onstage in New York's Central Park, revealing her left nipple to audience members and TV viewers at home.
Minaj's nip slip initially went unnoticed by producers of the breakfast show, but they managed to catch the incident just before the star fully exposed her breast as she jumped around singing her latest single, Where Dem Girls At.
GMA bosses momentarily blocked the TV footage by putting up a blank gray screen as Minaj adjusted herself, and network executives at ABC have since apologized for the incident.
An ABC spokesperson tells TMZ, "Although we had a five-second delay in place for the Nicki Minaj concert on GMA, the live East Coast feed of the concert regrettably included certain fleeting images of the performer that were taken out of later feeds of the broadcast in other time zones.
"We are sorry that this occurred."
But the statement is not enough for activists from the Parents Television Council and they are demanding TV bosses make the short delay standard practise for any live show to prevent any future explicit images slipping through.
Tim Winter, president of the watchdog group, says, "For the umpteenth time in recent memory a morning news show has included inappropriate content for children and families. Instead of asking for forgiveness, they need to stop apologising and implement the five second delay that so many Americans have been calling for."
Minaj has yet to comment on the controversy.