Articles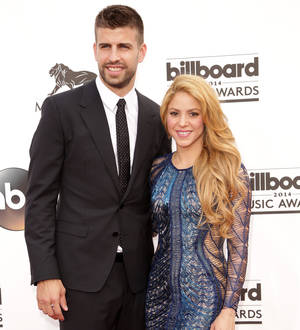 Shakira and sons support Gerard Pique at Spanish soccer awards
Shakira returned to the spotlight at a soccer prizegiving in Spain on Monday (28Nov16), weeks after pulling out of two performances to care for her sick son.
The Colombian superstar had fans worried in early November (16) after cancelling plans to travel to the for the American Music Awards and the Latin Grammy Awards due to "personal matters".

The Hips Don't Lie singer didn't expand on the news at the time, but days later, she returned to social media to assure fans all was fine, revealing her 22-month-old son Sasha had been sick.

"Everything is under control now, and he's back to his cheerful self!" she shared beside an Instagram photo of the mother and son.

On Monday, Shakira proved Sasha was fighting fit again as they joined her boyfriend, soccer star Gerard Pique, and the couple's eldest son Milan, three, at the Estrella Catalan Sports Awards in Barcelona, Spain.

The family of four was all smiles as it posed for the cameras on the red carpet, and the couple's young boys later stole the limelight as they joined dad onstage to collect his award as the best Catalan player of the season.