Articles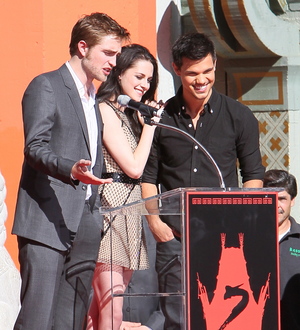 Robert Pattinson still thinks hand and footprint ceremony was a dream
Robert Pattinson is still pinching himself after leaving his mark on Hollywood Boulevard - because he used to wander among the stars' hand and footprints when he was living at the Magic Castle hotel during his first visits to Los Angeles.
The Twilight hunk and castmates Taylor Lautner and Kristen Stewart cemented themselves outside landmark Grauman's Chinese Theater last week (ends04Nov11) - and the British actor still thinks the whole ceremony was just a dream.

He tells WENN, "I stayed at the Magic Castle the first few times when I came to L.A. when I was 17. I used to walk down to Hollywood Boulevard all the time.

"I was totally unemployable and it wasn't in the realm of any kind of understanding (that I would do this) and it still isn't at all. I don't really feel like I've even done it. I feel like there's this wave that happened, where I'm just on it. I may have a personal connection to it 20 years from now... It represents something amazing and it's totally ridiculous. I don't even know how to feel about it. It's just kind of mindblowing."

But the memory of the hand and footprint ceremony will forever be tarnished by his clumsiness.

Pattinson explains, "I was kind of embarrassed when I did it because I messed it up.

"I stood on my own handprints and it's the one hand print which is now messed up."