Articles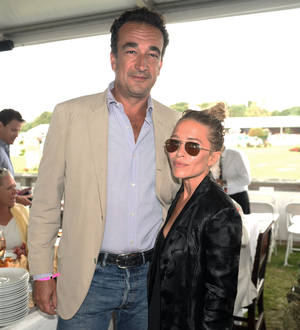 Mary-Kate Olsen confirms secret marriage to Olivier Sarkozy
Former child star-turned-fashion designer Mary-Kate Olsen has finally confirmed her marriage to Olivier Sarkozy, over a year after quietly tying the knot.
The mini mogul began dating Olivier, the half-brother of former French President Nicolas Sarkozy, in 2012 and after a low-key engagement, they became husband and wife in November, 2015.
Mary-Kate, who, along with her twin sister Ashley, is known for keeping her personal life private, didn't comment on the wedding reports at the time, but now the 30-year-old has acknowledged her marital status for the first time in an interview with Net-A-Porter's The EDIT magazine.
During the chat, the star admitted she has made her family time with Olivier, who is 17 years her senior, a priority to help her balance the pressures of running the Olsen fashion empire with her twin.
"I have a husband, two step-kids and a life; I have to go home and cook dinner," she shared of her normal daily routine.
"I ride horses on the weekends," she continued. "You find the thing that helps you relax and if you don't have it, you have to look for it. Or you get burned out and then you're not productive."
The Full House and New York Minute actresses have made a point to stay away from social media, and they credit that distance from the public with helping them maintain focus on their work, instead of drawing unwanted attention to their private lives.
"Because we don't dive into that whole world (of social media) and we don't have Facebook, we've never been connected to our fans in that way," Ashley said in the joint interview. "We've stayed quite sheltered in that sense."
Mary-Kate's marriage to 47-year-old Olivier is her first, while the French banker was previously wed to Charlotte Bernard from 1997 to 2011. They share two children together.