Why So Many People Are Buzzing About The Documentary 'Free Solo'!
Written by Meg Spaulding. Published: October 04 2018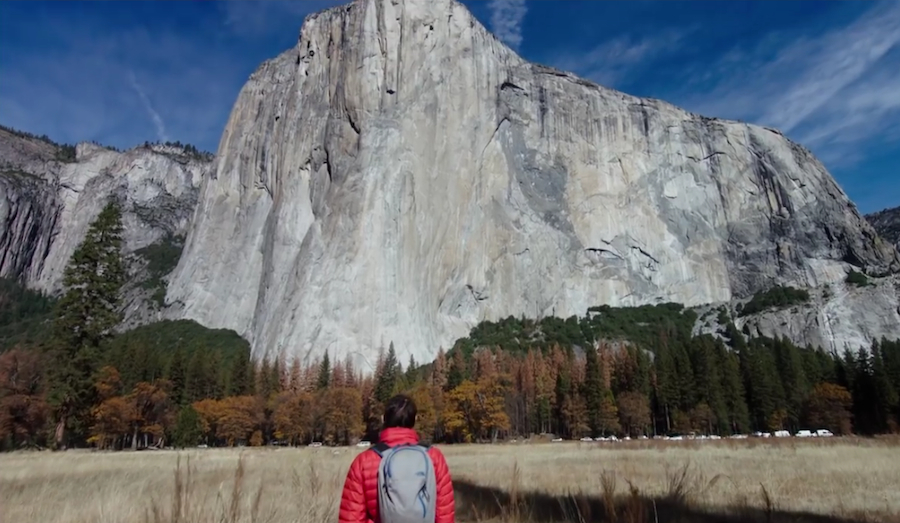 The most daring athlete of our generation has big eyes and a voice full of California ease. His name is Alex Honnold, and he specializes in doing the most dangerous form of one of the most dangerous sports. Honnold "free solos", which means he climbs giant rocks with absolutely no equipment. No ropes, no harnesses, no other rock-climbing gear (you can see where my expertise ends). The new movie Free Solo captures his journey to climb El Capitan, a 3,200-foot wall of granite towering over Yosemite National Park, without a rope. 
Free Solo, which opened in four theaters last weekend, had the best ticket sales per screen average of the year, beating Eighth Grade's four-screen debut. It is also poised to steal the #1 spot of the iconic documentary An Inconvenient Truth by topping its theater average this weekend. This weekend, or in many weekends to come, you can catch it in a theater near you. And you will definitely want to catch this on the big screen.
One reason it could be having such a success in the theaters already is the sheer size of the images, which call for a big screen. This is a 3,200-foot-tall rock we're talking about, after all. To give context, the Empire State Building is 1,454 feet tall—child's play for Alex Honnold. Along with the size, there's a cinematic suspense involved in watching someone climb a rock face with no rope. The last 1/3 of the movie, when he begins his climb, is apparently one of the most suspenseful, terrifying movie-watching experiences, ever. Which makes sense, because even the trailer will make you hold your breath, whether you have a fear of heights or not.
The film also explores Honnold's motivation—who's this guy willing and eager to risk his life on the side of a mountain? In Free Solo, we learn about the life of the most respected and talented rock climber currently, and possibly ever. It's clear that he excels at staying calm in situations that usually call for fear. The hardest part of free soloing, say many climbers, is not freaking out. You have to control your breathing, execute your movements, and find focus while staring down a 2,000+ foot drop. Honnold's "no big deal" attitude is not just part of his personality--it's possibly the reason he's still alive.
Free Solo also focuses on the relationships that are affected by Honnold's decision to climb El Capitan. The veritè-style filmmaking captures Honnold and his girlfriend in his van where he often lives when he's on the road to his next climb. Expectedly, his girlfriend doesn't understand why Alex feels like he needs to climb something so dangerous. The moments between them as they have difficult discussions and make deeper connections set the scene and raise the stakes for what's to come.
This movie is for everyone—rock climbers, of course, but also those of us who enjoy seeing something that's never been seen before. I don't think it's possible to watch this movie without feeling at least a tiny bit of the wonder and amazement that Alex Honnold must feel every time he climbs. Hold on to your armrests, plant your feet firmly on the ground, and check out this awe-inspiring act of defying gravity on a big screen near you!
(Image via National Geographic)
- Meg Spaulding, YH Contributing Writer