Walt Disney Himself Returning to the Big Screen
Written by Danielle Koch. Published: July 11 2013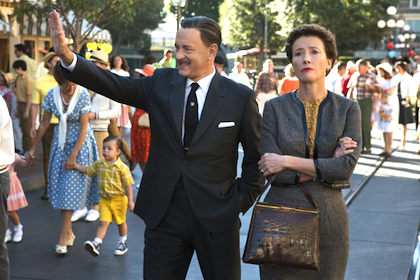 The little kid in each and every one of you is going to jump for joy with this announcement.
The first official still and trailer for the upcoming Disney movie Saving Mr. Banks have been released, and my oh my, does Tom Hanks looks like a very convincing Mr. Walt Disney. Fast fact: this is the first time that Walt Disney will be the lead character in a Walt Disney Pictures film! I don't have a shred of doubt that Tom will do the role justice.
If this is the first time hearing of this movie, then let me back up a little bit. The film takes us on a journey with author P. L. Travers (played by Emma Thompson) as she makes her way from London to Disneyland. Why the drastic move? Well, this woman wrote the classic book Mary Poppins. I guess you could say she is kind of a big deal.
Travers graces the United States's presence because Disney wants to make a film adaptation of her book, putting this film circa 1961. Nothing like a good throwback, right?
Disney takes us not only through the process of bringing the printed words to life (although P.L. is none too keen), but also through the tumultuous relationship between the author and cinematic genius that seems all too inevitable.
Although she has a few Oscars under her belt, Emma said that this was one of her most difficult characters she has ever played: "You can get away with dropping the ball from time to time with adult audiences, but children know. You've really got to do your best. Letting them down is a serious failure in your artistic integrity."
I don't know about you, but it sounds to me like this movie is going to be exquisite. I mean, with those two as the flagship characters in the story, how can you really go wrong?
Audiences will get the chance to get a glimpse into the man's life who has and always will bring so much joy to people's live everywhere on December 13 of this year.  Whether you're young or just young at heart, you will enjoy this movie.
(Photo via WENN/ Walt Disney Pictures)
- Danielle Koch, YH Staff