Top 5 Best Spring Break Movies!
Written by Nicole Koch. Published: March 20 2015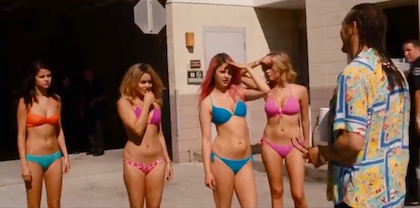 It's officially Spring, and you know what that means!
For many of us, it means Spring Break is just around the corner, and I, for one, couldn't be more excited. Spring Break to me is enjoying the California sun, sipping on an ice cold beer (legally!), and letting myself recharge after the daily pressures of school and work. But there's a huge part of me that likes to just sit on the couch in my pj's all day and catch up on my favorite TV shows and movies. And for that reason, I've created a list of the Top 5 best Spring Break movies you can watch on your break... Or, just whenever you need a mental getaway!
1.Passport to Paris (1999)
Who DOESN'T love an old Mary-Kate and Ashley Olsen adventure movie? The twins are on Spring Break, and instead of getting to hang out with their friends, they get sent to Paris to spend time with their grandfather. They, of course, aren't happy about this, but they find a ton of adventure and some irresistible French boys as well! What more do you need?
2.From Justin to Kelly (2003)
Oh my gosh, do you guys remember this movie? "American Idol" alumsKelly Clarkson and Justin Guarinistar in this Spring Break musical. It's cheesy for sure but totally makes you want to go to Miami for some fun in the sun! The two meet, fall in love, and hit some major speed bumps along the way. How can you deny the ICONIC fashion trends and hairstyles from the early-2000s? Say hello again to chunky highlights:
3.Degrassi Spring Break Movie (2009)
Drake as Jimmy on "Degrassi" -- #neverforget. Just hearing the theme song gives me chills because it takes me back to the good 'ol days, coming home from a long day at school and watching "Degrassi" until bedtime! The crew make their way to the Smithdale Campus (Degrassi's fictional Canadian college), all on different missions! Basically this movie was like our last chance to see our beloved Degrassi community before they all moved on to other TV shows. Enjoy!            
4.Spring Breakers (2013)
If you want to see Vanessa Hudgens, Selena Gomez, Ashley Benson, Rachel Korine, and James Franco as the complete opposite characters of what they usually play, then this is the movie for you! The girls set out to have the best Spring Break EVA, and with the help of James Franco's character, they're put the test to see how far they'll go to get what they want. I'd say the robberies, sex, and drugs are the main characters of the film, and it's definitely one for the books!
5.Spring Breakdown (2009)
One of the silliest movies ever, starring Amy Poehler,Rachel Dratch, Parker Posey, andAmber Tamblyn. Seth Meyers andJane Lynch make a few appearances too, so you can bet this is a funny movie! It's a story of former college friends, all who were rejected by sororities, who are partying it up and making up for lost time! It's a movie that will for sure entertain you!
I hope you guys enjoy your Spring Break, whether you're out on the sand or in front of the TV! Stay safe, my friends.
(Screenshot via YouTube)
- Nicole Koch, YH Staff