TMNT & 3 Other Classic Kid Shows That Need a Big Screen Reboot!
Written by Amanda Baltazar. Published: April 05 2014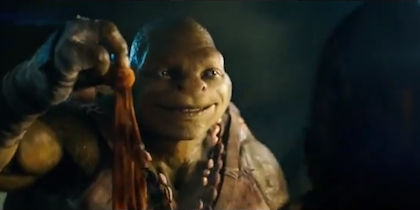 KOWABUNGA, dudes!
You can probably guess whatMichael Bay's most recent project is after that introduction.
The reboot of Teenage Mutant Ninja Turtles is set to release in August of this year, and last week they released the first trailer. Check it out here!
Although it is a Nickelodeon movie, the premise seems a bit darker than most would have expected from the cute color-coordinated turtles. And I don't know if you all noticed, but April O'Neil is played by Megan Fox!
All I can say is that the film looks like it will make a big splash in true Michael Bay form.
But it does have me thinking, what other kid shows should be rebooted into an awesome action movie with the use of today's killer graphics and stunts?
Well a few came to my mind…
Power Rangers
I'm pretty sure everyone would love to see this happen. We've all seen the amazing stuff they did with Transformers, so the Megazords would be crazy! And cute boys in spandex… any opposed? No? Good. A reboot of "Power Rangers" into a movie would make any adult feel like a kid again. Possibly even a throwback to Zordon and Alpha would be nice!
Mortal Kombat
One of the most prominent video games of the early-'90s, "Mortal Kombat" would make a great reboot now. I want to see the crazy stunts and special effects they could come up with. With Sub-Zero and Raiden's special powers, I would love to see a movie explore the realms of Mortal Kombat. Let me just say it -- FATALITY! We could probably get a realistic account of that finishing move.
Ben 10: Alien Force
This series, popular in the 2000s, is about a boy who finds a watch device that lets him turn into different alien creatures, which lets him fight crime and save the world. I think special effects artists would have a field day trying to recreate the different aliens Ben can turn into.
With all the CGI and special effects technology available today, it would be awesome to reboot some classics. So just a couple suggestions up there for Mr. Michael Bay. What other classic kids shows do you think should be rebooted into a action-packed film?
(Screenshot via YouTube)
- Amanda Baltazar, YH Staff