The X-Files are Being Re-Opened Once Again!
Written by Taylor Carter. Published: April 25 2017
You know a show is inherently special when, 24 years after it's original premiere, the news of its impending comeback ignites excitement in the hearts of Millennials and Gen-Xers alike. The 16 Emmys, the hit movies, and 10 seasons also serve as a reminder of its greatness. The aforementioned show is, of course, the phenomenal supernatural hit "The X-Files".
The show centered on FBI agents Fox Mulder (David Duchovny) and Dana Scully (Gillian Anderson) who are assigned to the unsolved supernatural cases, the X-Files. During their time together, they investigate aliens, cults, ghosts, monsters, and, sometimes, their own feelings for each other [SWOON]. The combination of genres and compelling storylines created a truly legendary show, one that is worthy of spanning decades.
This isn't the first time that the cult classic has been brought back for modern audiences. The show initially ended in 2002, but the cast reunited in 2008 for a movie installment, The X-Files: I Want to Believe. After an 8-year break, Agent Scully and Agent Mulder reunited once again last year (2016) for a 6-episode run. In what was supposed to be a exciting reunion turned out to be an adventure no one predicted that left us with more questions than answers. So, naturally, fans anticipated even more episodes would soon follow, but just because we saw it coming doesn't make the news any less exciting.
The already highly-anticipated newest installment of the series is a 10-episode order that will serve as the 11th season of the show. The production is scheduled to begin this summer with a release date in either late 2017 or early 2018.  No details have been released on the subject matter, but we hope that the upcoming episodes will answer the burning questions that the final episode of Season 10 left us with.
Duchovny and Anderson took to social media to react to the news themselves, with Anderson posting adorable side-by-side photos of the pair with the caption "You ready for more of this, @DavidDuchovny?", to which Duchovny replied "Oh yes, been ready since '93."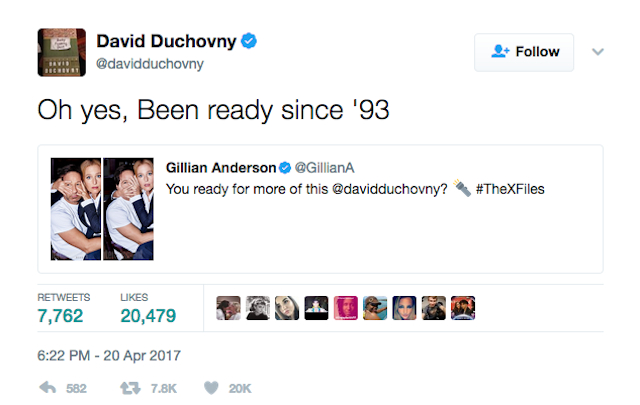 BRB, re-watching all 10 seasons and movies...
(Image via WENN)
- Taylor Carter, YH Contributing Writer