The Biggest Movie & TV Reveals at Comic-Con '18!
Written by Kyla Killackey. Published: July 25 2018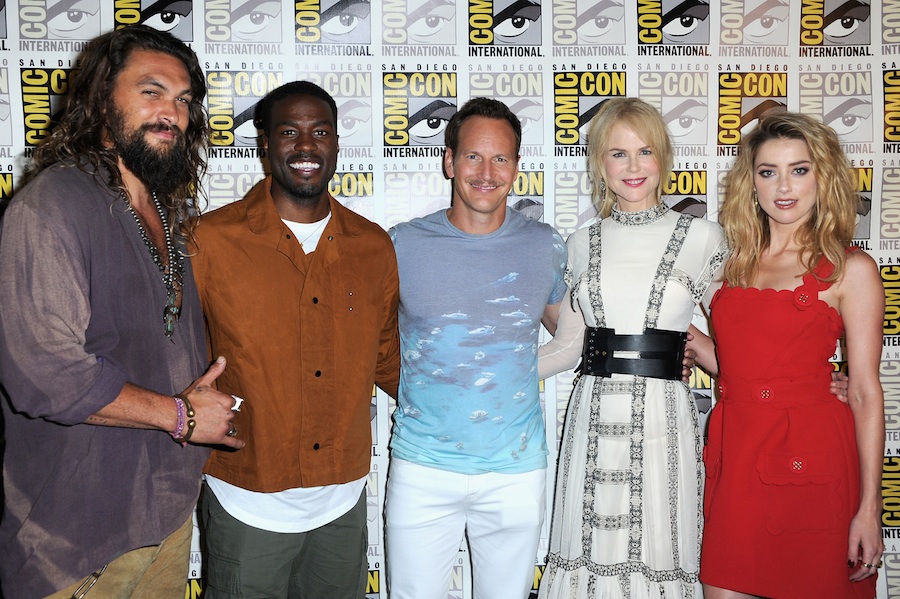 Comic-Con San Diego 2018 (AKA the pop culture weekend of our dreams) wrapped up on Sunday and let me tell you, it did not disappoint. Even with Marvel and HBO both taking a well-earned break from the San Diego Convention Center this year, there were plenty of new trailers, panels, and big reveals to go around. Here's everything you need to know from SDCC!
MOVIES
Aquaman
DC is back in the spotlight and they came to compete! It feels like they've been filming Aquaman for years and thank goodness we finally got a peek. DC dropped the first trailer for its epic new superhero saga and I'll just say this… it is a lot. Jason Momoa is pretty much shirtless for the entire thing so that was quite distracting, but here are what few coherent thoughts I could put together:
- It's going to be set pretty much right after Justice League and follows Mamoa's Arthur Curry (Aquaman) as he returns to Atlantis.
- Aquaman starts as a young boy who can talk to the sharks at the aquarium (I'm getting some mad Harry potter vibes here) and then somehow turns into the muscled god of the sea.
- There's some sort of war going on between the land peeps and the Atlantis peeps; Aquaman is often shirtless while trying to stop this war and he is trying to stop it because he is from both worlds.
-Nicole Kidman plays his mother so that's always exciting; she looks lovely.
-Amber Heard plays Aquaman's wife and that bright red hair is fierce.
- Lots of flames and water and shirtless Mamoa everywhere. Very exciting.
Shazam!
Now this one really came out of nowhere. I honestly skipped over this trailer multiple times but its persistence on my popular page finally convinced me to take a look and I am obsessed.
This one is another DC superhero tale that follows 14-year-old boy Billy (Asher Angel) who finds himself in a new foster home with a cute and super-nerdy new foster brother, Freddy (Jack Dylan Grazer). Billy ends up defending Freddy and, long story short, gets chosen to possess the powers of Shazam, some ancient, grey Wizard.
It gets a bit confusing here because the powers seem to turn Billy into an adult (Zachary Levi)?!?? He has a bunch of abilities to go along with his new super suit and can apparently morph between child and adult? Anyways, this recap isn't really doing it justice so you should really watch the trailer. It's hilarious and Freddie is the cute kid fromIT so there's nothing not to love about this one. See you in Theatres April 2019.
Godzilla
YOU GUYS ELEVEN IS GUNNA BE A MOVIE STAR!!!!! You should have seen the speed with which I clicked on this trailer when I saw my angel Millie Bobby Brownstaring back at me from the screen. And if that wasn't enough, it also stars Kyle Chandler(Super 8), Sally Hawkins (The Shape of Water), Charles Dance ("Game of Thrones"), and Bradley Whitford (Get Out) -- who gave the casting director permission to do this to us?
Check out the first look at the movie, in which the world is ending and apparently we're gunna need Godzilla and some other crazy monsters to help save it??? I don't really get the reasoning there but I guess we'll just have to watch it to find out.
Fantastic Beasts: The Crimes of Grindelwald
In case you couldn't tell in my Aquaman recap, the wizarding world has been on my mind and it is all because of the new Fantastic Beasts trailer.
Warner Bros. dropped its second trailer for their Fantastic Beastssequel at Comic-Con and it has everything you didn't know you needed. We get to see young Newt (Eddie Redmayne) at Hogwarts being taught by young Dumbledore (Jude Law). Side note, when we started our Harry Potter journey 17 years ago, I would have never in my wildest dreams thought I would ever be attracted to Dumbledore but this is a wild world we live in and Jude Law looks great in a suit.
We also get to see Zoe Kravitz as Leta Lestrange, creepy Credence (Ezra Miller) is back to stir things up, Grindelwald (Johnny Depp) and Dumbledore have a weird thing going on, there's a quick cameo from Nicolas Flamel, and so so so much magic.  Fantastic Beasts: Crimes of Grindelwald hits theatres in November, we're getting so close!!!!
IT: Chapter 2
We all know I have been pretty passionate about IT: Chapter 2 ever since the cast was announced. Well, of course the movie hit Comic-Con hard and gave the San Diego audience a sneak peek into our new favorite nightmare. Andy Muschietti, the director of both films, teased that the movie would be "[…] scarier [and] a more intense experience, so bring your adult diapers to the theatre."
The quick video showed part of the table read and the first glimpse of the grown-up Loser's Club at a Chinese restaurant, which, in the book, is the first time the Losers are all reunited after their 27 years apart. So it's pretty important, you guys!! Unfortunately, they haven't released the clip for the entire internet to pick apart yet, so we'll still have to wait a little bit longer to give our own opinions...
TELEVISION
"Buffy" Reboot
There's gunna be a Buffy reboot!!! "Buffy The Vampire Slayer" first premiered more than 2 decades ago, and we just got the news that the iconic show will be returning to our TVs. The original creator,Joss Whedon, will be returning to helm the ship as executive producer, and Monica Owusu-Breen, creator of "Midnight, Texas", has signed on as showrunner and head writer. Buffy will be getting a new look too. The slayer will be played by a black actress, and the show is promising to build on the mythology of the original. The good news just keeps coming!!!
The New Ms. Doctor Who
At one of the biggest panels of the conference (6,000 fans), the new and improved Doctor was unveiled, and she is everything we could have hoped for.Jodie Whittaker took the stage to reveal the first trailer of the new "Doctor Who" series and make history as the first female to play the titular role. Sometimes we do get good things!
"Disenchantment"
And finally, if you're still with me, I present to you the new animated series that has everyone talking: "Disenchantment". This series comes from the brilliant creator of "The Simpsons", Matt Groening, and is debuting on Netflix in August.
Two of the main characters will be voiced by familiar faces: Abbi Jacobson (of "Broad City"), who plays the series lead Princess Bean; and Eric Andre, who will be her personal demon Luci.
By the looks of the trailer, we're in for quite a ride.
(Image via Albert L. Ortega/Getty Images)
- Kyla Killackey, YH Contributing Writer