SUNDAY MUSIC VIDS: Debbie Gibson
Written by Katie Marzullo. Published: June 18 2017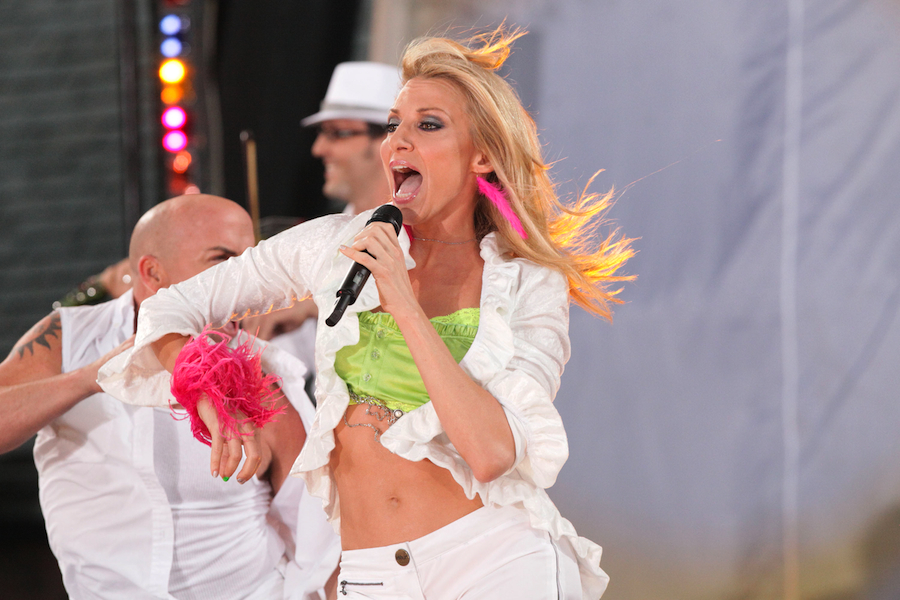 As much as the old fogies would like to deny it, Teen Pop Idols have been around for quite a while. You can roll your eyes and stamp your feet over Justin Bieber, Selena Gomez, and Ariana Grande all you like, but they are not new. Every generation has their pop idols, and their devoted fans inevitably get older and bemoan the younger generation's pop idols as far inferior to theirs. But really, it's all the same. Only the number on the calendar changes.
Back in the '80s, it was all about Debbie Gibson. (I know she prefers to be called Deborah now, but for the purposes of this article, I shall use the contemporary moniker.) She burst onto the scene in 1987 at the age of 17 with her appropriately-titled albumOut of the Blue and it's extremely catchy lead single, "Only In My Dreams", and a pop star was born! Her second album, 1989's Electric Youth, raced to number 1 on the charts, even though the singles from the album didn't do quite as well as her previous.
After that, the sheen of pop stardom wore off quickly, but the damage had already been done, and she had cemented her place in music history. Yes, it was all a bit corny, but there are quite a few reasons why Debbie Gibson should, in fact, be held on a slightly higher pedestal than her modern-day equivalents…
For one thing, she wrote her own stuff. And in many cases, she produced it too. She was very much in control of her own product, and that's something even musicians twice her age aren't able to achieve. So you can accuse her of being a part of the "pop music machine", but she was actually the one turning the gears.  
And she never compromised herself or her image. This is probably why her popularity dipped so quickly after only 2 years and 2 albums. She, unlike her descendants, never felt the need to "shed her good-girl image" in order to please more grown-up tastes and "stay relevant". That was not where she wanted to take her career, so she didn't. But that never stopped her from doing her own thing and continuing to make music, on her OWN terms. Yes, she did pose forPlayboy in 2005, but it was moot at that point. If she'd done it in 1990, it would have been a whole other story.
Debbie/Deborah also has a thriving theatre career, which began with a stint on Broadway as Eponine in Les Miserables back in 1992. Since then, she has played both Sandy AND Rizzo inGrease, Belle in Beauty and the Beast, Velma Kelly in Chicago, Sally Bowles in Cabaret, and the lead roles in Funny Girl and Gypsy. Any theatre geek will tell you that that is a DREAM resume for any stage actress. So, she's doing a-okay, folks.
She may not be the pop phenom she once was, but she WAS ONCE, and she was the epitome of squeaky-clean good teen fun back in the day. And let me tell you something, honeychile – I adored me some "Foolish Beat". From the first moment I heard it, I had to have it. And back in those days, it wasn't as easy to obtain your favorite song-of-the-moment. I had to sit there day and night in front of my little pink boombox and wait for it to come on the radio again before I could record it. Once it finally did, it was the greatest day of my life… You kids today don't know what that's like! But I digress…
Let's break out the bowler hats relive our Electric Youth with some good ol' Debbie Gibson!
(Photo via WENN)
- Katie Marzullo, YH Staff Editor