"SNL" Alums Reunite for Dramatic Feature 'The Skeleton Twins'
Written by Kevin Donaldson. Published: July 01 2014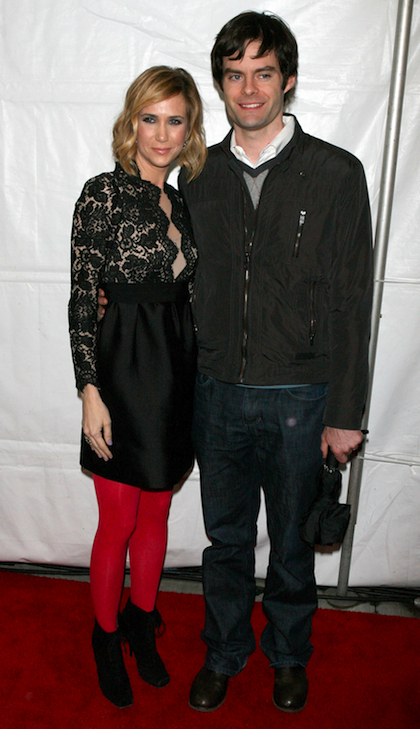 The first trailer for the Sundance Screenwriting Award: U.S. Dramatic winner,The Skeleton Twins, has hit the internet. The film sees a reunion of "SNL" alumni Bill Hader andKristen Wiig, who are known for playing goofy and over-the-top characters, taking a turn for the more dramatic together. Don't be fooled, though; the trailer contains plenty of humor and depicts what looks like a well-balanced dramedy.
The Skeleton Twins follows twins named Maggie (Wiig) and Milo (Hader), who separately and coincidentally cheat death on the same day, causing them to reunite after ten years of estrangement. They both have issues with relationships they need to sort out -- Maggie is unhappily married to an ex-frat boy named Lance (now a man played by Luke Wilson), and Milo has never gotten over the heartbreak of a past relationship with Rich (Ty Burrell). Together, they hope to figure out how their lives went wrong.
The film first started making buzz when it appeared in the Sundance film festival earlier this year. I for one found out about it in January when researching how a movie I gripped on call Appropriate Behavior was doing (there's my first and last plug for that film!). Ever since I found out about The Skeleton Twins, I've been intrigued by the idea of Hader and Wiig tackling a drama together. So far, the film has been garnering rave reviews from critics, and after sixteen reviews on Rotten Tomatoes, it holds a 100% rating. Not a bad start at all. Wiig and Hader in particular are both receiving praise for their work. Check out the trailer below:
Are you excited to see Bill Hader and Kristen Wiig in dramatic roles?
(Photo via WENN)
- Kevin Donaldson, YH Staff