Selena Gomez Has a Giant Slumber Party For "I Can't Get Enough" Video & We're All Invited!
Written by Jordan Cioppa. Published: March 13 2019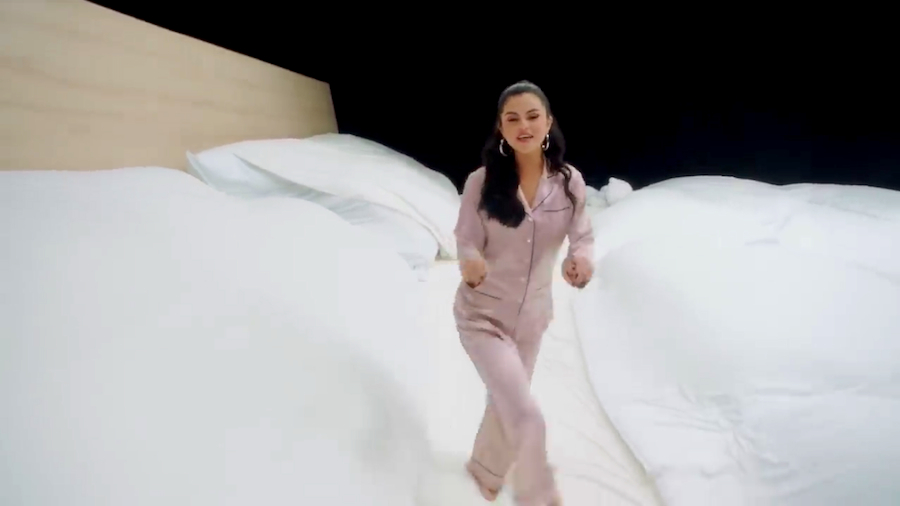 Selena Gomez seems to be laying low lately, but that's okay because she is busy working on new music and starring in a music video that includes a giant slumber party…
The music video for Selena Gomez, Benny Blanco, J Balvin, and Tainy's hit single "I Can't Get Enough" is officially out and it does not follow your typical music vid protocol. No two videos are the same, but this one is very unique, especially with its inclusion of a giant bed and Benny Blanco dressed as a big, white teddy bear.
Forget king-sized beds -- the one featured in "I Can't Get Enough" is fit for the whole kingdom! The artists are seen bouncing around and singing the lyrics to the single that just dropped a few weeks ago, all while atop of the larger-than-life mattress. This is a very interesting concept to say the least, but it definitely made for a fun and easy-going music video. There isn't really much more to the "plot" of the video, but I think the simplicity is what makes it so fun! Plus, who doesn't love a giant slumber party with all of your closest friends?
Speaking of keeping things simple, according to Selena's Instagram post where she announced the release of the video, she informs us that the production was shot in one take. This is a pretty big accomplishment, considering the springiness of the bed looks like it's a little hard to walk on, let alone sing on! Selena even admitted to falling a few times while shooting it, which is understandable. 
But, I think my favorite part has to be when Benny Blanco casually appears dressed in a fluffy, white teddy bear costume. So, is there symbolism behind all of this? Well, who knows, but one thing is for sure, this music video is pretty cool and we love seeing Selena Gomez back on the scene, working on new projects!
- Jordan Cioppa, YH Contributing Writer