Rob Zombie Directing Biopic of Comedy Icon Groucho Marx!
Written by Greg McIver. Published: June 19 2015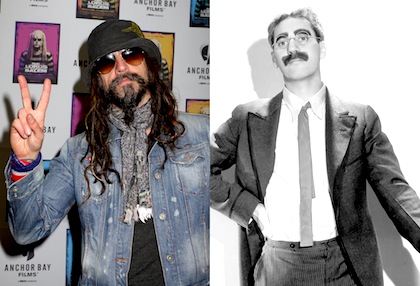 Ask and ye shall receive I guess. What do I mean by that? Well, anybody who is remotely familiar with my humble self knows that I hold no other figure in comedy to a higher regard than Groucho Marx. He and his 3 brothers (Chico,Harpo, and Zeppo) changed the face of film comedy forever more than three-quarters of a century ago. Their irreverent and chaotic humor has a timeless quality that would set the bar high for all zany comedies and satires that would come after. Groucho in particular is a genius because (and it is so hard to define greatness) he comes alive onscreen more than any other film comedian I have ever seen. His deadpan wit, manic movements, and complete and utter disregard for social mores created a perfect storm of humor that (in my opinion) has never been equaled.
And so the years have ticked by and the masses of humanity have had to suffer the reality of a world without a Groucho Marx biopic... until now!
That's right, a film about the last years of Groucho's life is headed to the big screen, and nobody was cheering harder at the news than myself and the liars out there that claim to be bigger Groucho fans than me. The film will be based on the book Raised Eyebrows: My Years Inside Groucho's House", written by Steve Stoliar, which recounts his time serving as Groucho's personal secretary in the final years of the great comedian's life. During that time, he was exposed to the cavalcade of celebrities that surrounded Groucho, as well as the unhealthy relationship Groucho had with Erin Fleming, a woman who attached herself to Groucho's personal and professional life and essentially took over both. Oren Moverman, the man who co-wrote the much acclaimed Love and Mercy, has been tapped to adapt Stoliar's book. Oh, and the lead singer ofWhite Zombie is going to direct it.
Yes indeed, my gentle snowflakes, Rob Zombie, the man behind such films as House of 1000 Corpses, The Devil's Rejects, The Lords of Salem, and theHalloween reboot, is the man who will finally bring Groucho Marx back to the big screen. And, honestly folks, I ain't that surprised. If you recall, House of 1000 Corpses andThe Devil's Rejects, then you will might also recall that nearly every villainous psycho (or anti-hero, as they almost become in The Devil's Rejects) is named after a character that Groucho played -- Captain Spaulding, Rufus, Otis, Mother Firefly, and Hugo are names that flew across the screen during the running time of Mr. Zombie's directorial debut and its subsequent sequel, and as a Marx Brothers fan, I certainly took notice and was quite tickled by his decision to pay tribute to Mr. Marx in this fashion. The fact that they're all named after Groucho characters actually becomes an important plot point in one of the more amusing and less bloody scenes in The Devil's Rejects. This at least proves, somewhat, that Mr. Zombie's recent claims about being a huge Groucho fan are not unsubstantiated. And I am hoping that affection and passion (along with a vision, which Zombie has proven that he has) will go a long way to giving Groucho Marx the film that he deserves.
(Photos via WENN)
- Greg McIver, YH Staff