Remembering Christopher Lee
Written by Greg McIver. Published: June 11 2015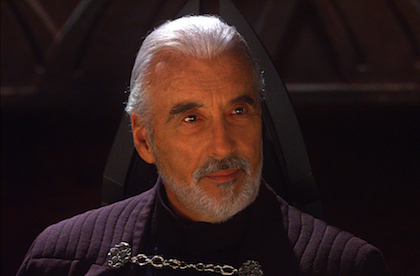 Christopher Lee was born on May 22, 1922, into a world that was not nearly as interesting as it would come to be now that he was a part of it. Sadly, 93 years later, the world will be less interesting once more, as the great entertainer passed away on June 7. After acting in over 280 films and bringing to life some of the most famous characters in history, it would be quite an understatement indeed to say that he left his mark on film lore. He was and will be remembered as a great villain, but more than that, I think he will forever be seen as a hero to those that wish to pursue that craft of acting.
Prior to becoming a huge talent in the world of film, Mr. Lee was a real-life badass. He served his country in World War II from 1939 to 1946. It was during that time that he worked for the Special Operations Executive, otherwise known as the Ministry of Ungentlemanly Warfare. This was Winston Churchill's "secret army", and he employed them to sabotage the enemy and create as much chaos for them as they possible could. During that time, he actually worked alongsideIan Flemming, the man who created the James Bond stories based on his own time in the British Special Forces. Christopher Lee would encounter Mr. Flemming again later in life but under far more entertaining circumstances. Of his time in the Special Forces, Christopher Lee had this to say: "I was attached to the SAS from time to time but we are forbidden – former, present, or future – to discuss any specific operations. Let's just say I was in Special Forces and leave it at that. People can read in to that what they like.". As the war died down, Christopher Lee went to work for Central Registry of War Criminals and Security Suspects, where he spent his time hunting down Nazi War Criminals. After the war ended, Christopher departed military life and decided to try his hand at acting. It worked.
Just 12 years after leaving the armed forces behind, Christopher Lee would make an impression on the world at large by portraying one of the most horrifying villains in fictional history: Dracula. And if you couldn't tell by the trailer above, Mr. Lee did what few have been actually able to do with the character of Dracula -- he made himscary. With all due to respect to those others that played the role, this is the version of Dracula that will remain embedded in my and millions of other people's minds when we think of the character because of his expert fusion of the animal-like fury and the cold intelligence. Lee would go on to the play Dracula 9 more times before finally retiring the character in 1976. Lee would move on to many more memorable characters down the road, including Scaramanga in the James Bond film The Man with the Golden Gun; Rochefort in Richard Lester'sThe Three Musketeers and it's subsequent sequels; and Saruman the White in Peter Jackson's The Lord of the Rings.
Christopher Lee's filmography is immense and I could spend the rest of this article listing everything else he's done, from Sherlock Holmes and Count Dooku in Star Wars to Dr. Wonka the dentist inCharlie and the Chocolate Factory and Dr. Catheter in the severely underrated Gremlins 2: The New Batch. But for those of you with interests outside of film, I would like to point out that the man also recorded 4 heavy metal albums from 1998 to 2014. I'm not exactly certain why he did this, but I am pretty sure that nobody was silly enough to try to discourage him from it. If Christopher Lee wanted to record a heavy metal album, then for the love of all the rock gods in the sky, the man was going to accomplish what he set out to do. Oh, and if you don't believe me, here is a recording of him singing a metal version of "The Little Drummer Boy" and "Silent Night". Oh Christopher, whatcouldn't you do?
Christopher Lee leaves behind a legacy that few other entertainers in this world will ever hope to achieve. From a war hero to a film hero, Mr. Lee lived his life in a way that is usually only ever found in books and films. Another star has fallen and simultaneously been gained in the skies above. Rest in peace, Christopher Lee, and thank you for the great memories.
(Photo via WENN)
- Greg McIver, YH Staff