Our Top 5 Favorite Performances From Netflix's 'The Prom'!
12-15-2020 by Casey Clark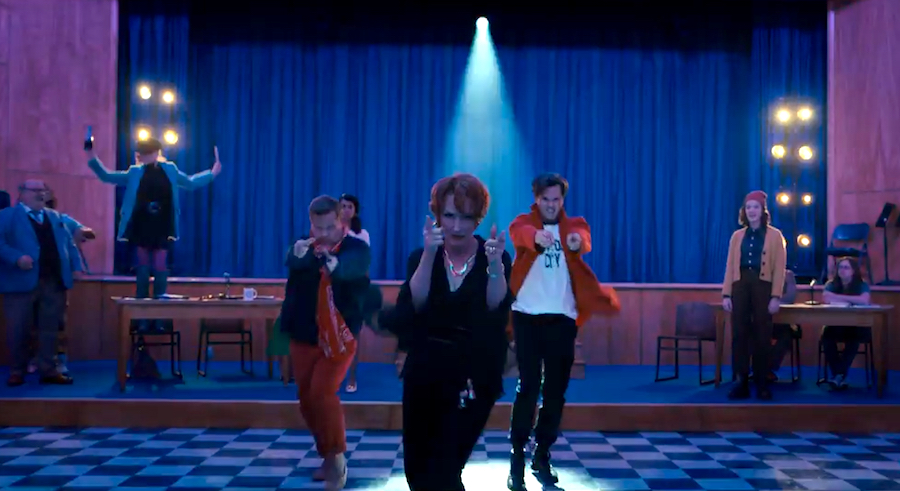 ( © Netflix)  
Prom is a special day that many students look forward to in high school. Can you imagine not being able to go to prom with who you wanted? Well, that was the case for Emma in Netflix's The Prom. The new film, based on the Tony-nominated Broadway musical of the same name and starring Nicole Kidman,Meryl Streep, James Corden,Jo Ellen Pellmen, Ariana DeBose, and Andrew Rannells, is filled with catchy, upbeat tunes and heartfelt ballads.

Here is a list of our top five favorite numbers from The Prom!

1. "You Happened"
You might remember watching cute promposals on Instagram and YouTube last year. While you might not have had the promposal experience of your dreams this year, no need to fret! In The Prom, there is a whole number dedicated to promposals. "You Happened" highlights the promposals of Shelby and Kaylee where they are serenaded with a choreographed dance by their boyfriends. How cute!
2. "It's Time To Dance"
This energetic number shows Emma and Alyssa together on the dance floor at the inclusive prom. Emma was advocating for herself and other LGBTQ+ students throughout the whole film to have a prom where everyone was accepted and she did it. "It's Time To Dance" is a celebration of victory, love, and happiness.
3. "Zazz"
Have you ever been afraid to do something, whether it's performing in the school talent show or appearing on television? Emma is given the opportunity to share her story with the world, but she lets fear get in her way. Angie gets Emma to add some "Zazz" to her life to help shake off the nerves and find the courage to be her authentic self. Catchy, isn't it?!
4. "Unruly Heart"
This is Emma's big solo in the film where she reveals to the world that she won't stay hidden anymore. This powerful number is a tear-jerker as you can feel the pain she has gone through and how she is determined to not let it hold her back any longer.
5. "Tonight Belongs To You"
Prom is supposed to be the night of your dreams. This song emphasizes the point that everyone deserves to have the prom they've dreamed about and that nobody can take this night away. The night belongs to you!

What is your favorite number from The Prom?