One Direction Takes You on a Date in "Night Changes" Video!
Written by Nicole Koch. Published: November 21 2014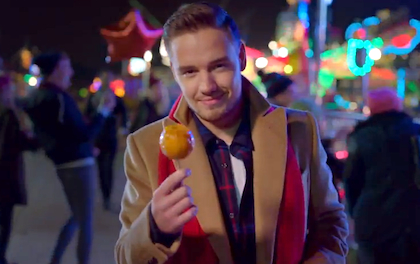 Two is always better than one. And in this case, five is always better than one, even it's One Direction!
It's no wonder teenyboppers and their mothers are still in awe of the 1D boys, especially after their newest music video for their single, "Night Changes". The video was just released and already has over 1 million views! I can't even pretend it's not cute… in fact, it's adorable.
The video takes its viewer on five different dates with each of the boys as they woo their date with close-ups of their bashful smirks and dreamy eyes. Each clip is filmed as if they're looking right at you. What else do you need, really??
The video begins with Zayn and his luscious hair leading his date (don't forget, that's YOU) to a romantic Italian dinner complete with red wine and spaghetti. He feeds you! Then comesLouis walking you through a bright nighttime carnival, snapping selfies. And then Harry shows up, offering you a pair of ice skates at the rink. He helps you with your laces and everything, and you two romantically make your way to the ice. Up next is charming Louis (my fave), who is waiting for you next to a vintage car. He opens the door for you and serenades you, all while driving through the streets filled with trees and sunlight. And lastly,Niall cuddles up to you in a holiday sweater, next to a fireplace and a dog. AWWWW.
Throughout the video, you're falling in love with at least one of the boys, if not all of them. And just when you think everything is all happy and swell, little mishaps start to take place, as the lyrics would indicate: "just how fast the night changes…"
But don't fret! The following lyrics "it will never change me and you" should give you some hope.
I won't ruin it for you, but I know you're dying to find out what happens! So watch the video below and see for yourself and let us know: which date would you choose?
(Screenshot via YouTube)
- Nicole Koch, YH Staff