New 'Galaxy Quest' Doc Explores How Sci-Fi Parody Took On a Life Of Its Own!
11-13-2019 by Katie Marzullo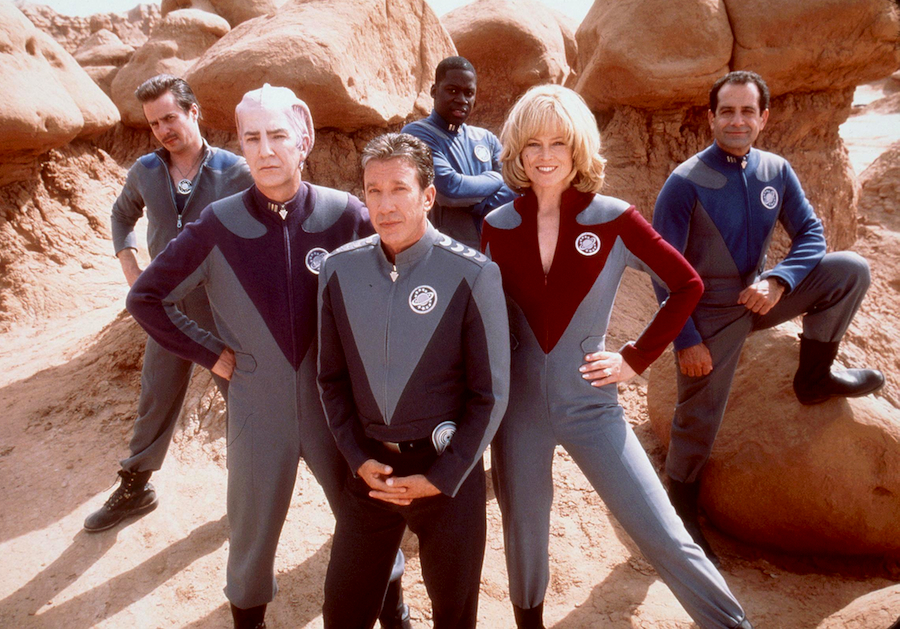 ( © Dreamworks/Getty Images)  
A cultural phenomenon like "Star Trek" doesn't come along that often, and it's even more rare for tributes to "Star Trek" to become just as huge.

But that's just what happened when a film called Galaxy Quest hit theatres in 1999. The movie, about a group of washed-up actors from a defunct-yet-popular sci-fi TV series (à la "Star Trek") who are recruited by real aliens to help them fight a dangerous enemy in outer space, turned out to be just as much a love letter to fandom as it was to the franchise it was spoofing. When sending up a beloved property like "Star Trek", there's a fine line between being reverential and being mean-spirited, but Galaxy Quest was never the latter, thank goodness. While acknowledging the cheesiness and frequent lapses in scientific knowledge of science-fiction, it also embraces the wide-spread love and appreciation for these properties, with the characters themselves finding a whole new outlook on the TV show that made them household names – and keeps attracting tons of rabid fans to conventions.
The film starred Tim Allen in the lead role as theWilliam Shatner surrogate, and also featured the late great Alan Rickman as the obligatory wise alien humanoid character (like Spock), Sam Rockwell as the expendable "red shirt", Justin Long as a diehard fan of the "Galaxy Quest" series, and, in stroke of genius, the sci-fi badass herselfSigourney Weaver playing waaayyyy against type as the token Hot Chick of the crew who doesn't really do much except look hot.
Although the film didn't do that great at the box office upon release, it has gained a significant cult following throughout the years thanks to TV broadcasts and home video sales. It has especially been embraced, unsurprisingly, by the very avid nerds it celebrates. Myself, I've never been a huge "Star Trek" fan, but I knew enough about it to get all the inside references in the movies (inexplicable booby traps in the ship, red shirts, NO shirts, etc.), and I could definitely relate to the fans themselves – especially the girls at the end who swoon when Allen and Weaver kiss (#OTP!!!).
Just asGalaxy Quest  revered "Star Trek" and fandom, Galaxy Quest  itself has now become the revered. Thus comes Never Surrender: A Galaxy Quest Documentary, which celebrates the film that celebrates sci-fi & its fans. For one night only – November 26, to be exact – this film will screen in theatres across the country, including interviews with cast, crew, and, yes, even stars from "Star Trek"! It's a collaborative effort between Screen Junkies, Fandom, and Fathom Events and promises some interesting behind-the-scenes insights into a film that had all the odds stacked against it. But, like Commander Taggart says, "Never give up, never surrender!" And they didn't, and boy are we glad for it!
By Grabthar's Hammer,  get your tickets to this one-night-only event now!