Mascots Unmasked in "Behind the Mask" Webseries
Written by Jasmine Evaristo. Published: November 08 2013
"Players may change. Coaches may change. The mask never changes."
With fall sports in full swing, last week, Hulu got into the spirit of the game by debuting its new original docuseries, "Behind the Mask", which takes a revealing look into the cloaked world of sports mascots. And trust me when I say that you don't have to be a sports fanatic to become completely hooked into the series and its roster of characters. It's interesting to note that sports mascots are universally beloved and revered, while the people inside of those costumes go completely unknown and uncelebrated... until now.
Created by Emmy-winning filmmaker Josh Greenbaum, the 10-episode webseries chronicles a full year through the lens of four sports mascots at the high school, college, minor league, and professional levels while breaking the fundamental codes of mascoting: you're not allowed to speak or reveal your identity.
At its core, "Behind the Mask" is a story about four people and their common dualities of living life in and outside of their costumes. It's an inspiring, surprisingly poignant, and often humorous glimpse into how individual tenacity can change the course of a losing game, galvanize the pride of an entire student body, inspire a community, and build a family legacy. It's that tenacity and their ability to be transformed once inside the suit that proves to be the emotional pull of the show, threading the narrative into a compelling story.
It was Josh's interest in the unsung hero and the motivation of the people inside the costume that set the series into motion. His imagery for the show evokes that of superheroes, as these guys lead double lives – celebrities one minute, and disappearing into the crowd the next. Josh recalls getting into the suit a few times during filming, and initially feeling really self-conscious.
"All I kept thinking of was, 'everyone is staring at me, I must look ridiculous, everyone knows it's me,' and you start to realize no one knows it's you. And that is an incredibly freeing process," he says.
Oscar Wilde once said, "Man is least himself when he talks in his own person. Give him a mask and he will tell you the truth."
So true, right? When given a mask of anonymity, there's a release of inhibition in a way. Particularly in our digital age, we speak more freely when under the guise of our usernames and avatars because there are no judgments based on preconceived notions about who we are. This is one of the fascinating thematics that the series explores.
The series' breakout star is Michael Hostetter, AKA Rooty the Cedar Tree, a 16-year-old Lebonan, Pennsylvania, high school student who felt like becoming the school mascot would be a way for him to get some positive reinforcement. As Rooty, the cheerleaders embrace him in hugs, but outside of the suit, he's brushed off with dismissive waves in the show's premiere episode. Initially, it might be easy to write him off as simply monotone and socially awkward, but inside the Rooty costume, he's completely transformed.
"It allows me to be someone I'm not," he says while admitting that he sometimes wishes he really was Rooty. "Rooty seems to have a lot more fun."
As you follow Michael's arc throughout the show, he becomes a revelation to watch. He's charmingly self-aware and full of snappy tree puns with a tenacious pride for his school and town. His belief in his community is rooted (I've got tree puns too!) in a unyielding will for recognition. He's out there cheering his heart out for his team even when they're down 60-some odd points.
"I'm going to give every ounce of energy, every ounce of endurance to show the world what I've got, because I believe a town, a school, a person deserves a second chance," he says. And with that strength of character, you'll be hard pressed not to root for him too.
Likewise, AHL mascot Chad Spencer, AKA Tux the Penguin, possesses a passion and conviction for the profession that is infectious. With a steadfast dream of making it to the NHL for his son, the former tire plant worker moonlights as a magician to help pay the bills. He's goofy, often engaging the crowd with pranks to imbue the arena with energy. Chad's dedication is palpable: "When I'm mascoting, everything is all me. It's all the inside of me coming out. It really shines through the suit there. That's the magic to me," he says.
Then there's sixth-year senior, Jon "Jersey" Goldman, AKA Hey Reb, of the UNLV Rebels – he's the big man on campus that all the ladies love; the real-life Van Wilder. Going into his final year of a full-ride scholarship, he intends on going out with a bang. As a first-generation college student, Jersey's mascoting legacy is established for his three younger sisters, "...to be able to show them the option of going to college, and then on top of it, to be able to say, 'hey, you can have fun and get a full-ride scholarship' is huge," he says.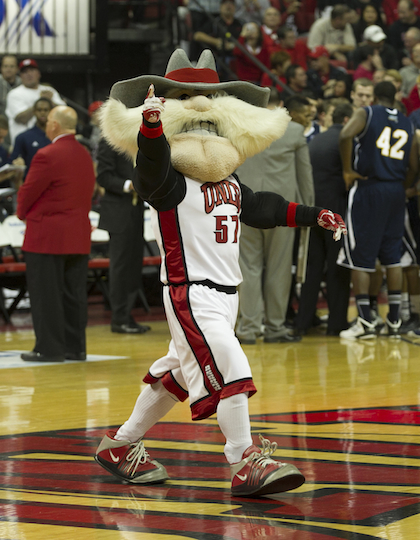 Lastly, he's been hailed as the "Lebron James of Mascots", winning the 2010 title of NBA Mascot of the Year: Kevin Vanderkolk, AKA Bango, has been with the Milwaukee Bucks for 13 seasons. He's fearless and audacious, known for his acrobatics and daredevil antics; he's someone who will go to great heights (literally) to inspire those around him, while pushing the envelope in the process. And it's that drive to go bigger and faster that raises the stakes. "My body is definitely my livelihood," he says as the show opens with him coming off an ankle injury. While he was reluctant to participate in the show a first, he ultimately decided he wanted to give some credibility to the profession "to show the world that it's not just anybody in a costume, it's actually a performer who puts a lot of heart and soul into it," he says. And as you get to know Kevin outside of the Bango costume, as a devoted family man, you realize exactly what those stakes are.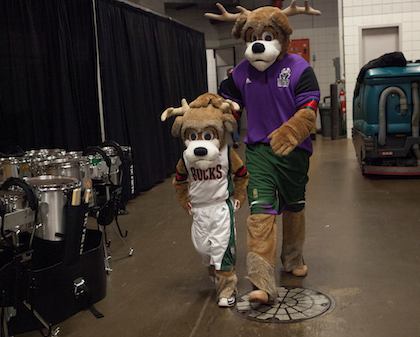 One of the most impressive elements of the show is that each episode explores common themes that bridge the age, level, and geographic gaps between the guys – something that manifests itself in delightfully confounding ways. That ability to connect with these characters and examine subject matters prevalent to our own lives is what should help make Hulu's investment in providing original content effective. The series serves as a mental note that you can reinvent yourself if you've got the will to do so.
You can stream the first four episodes of "Behind the Mask" here, with new episodes going live every Tuesday at 12am ET.
(Photos via Hulu)
- Jasmine Evaristo, YH Staff