Little Amal in a Big World
Written by Hayden Roberts. Published: October 02 2022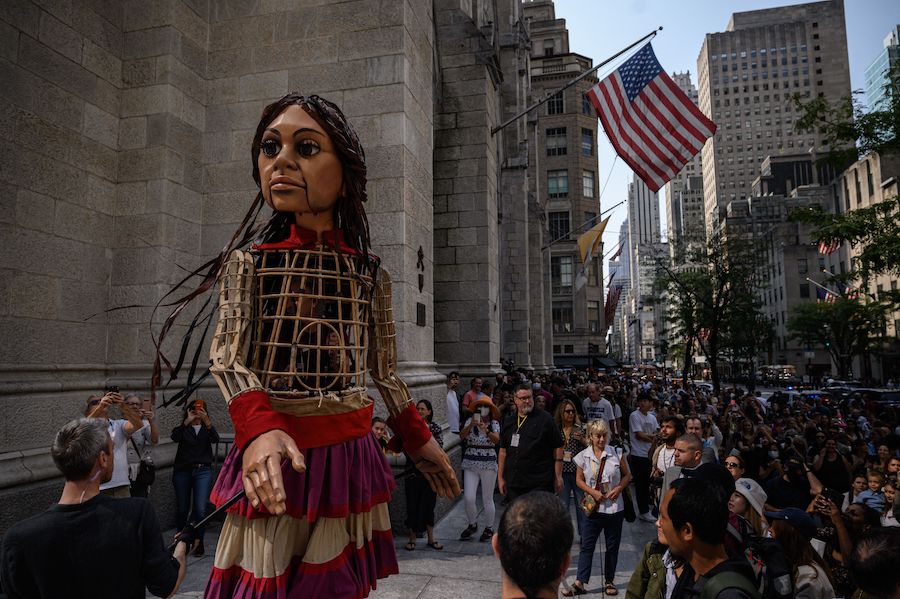 In July of 2021, Little Amal was introduced to the world. Created by a large team of puppeteers from Handspring Puppet Company, Little Amal stands at 11.5 feet tall and requires four puppeteers to bring her to life.
The project, entitled "The Walk", follows the journey of Little Amal as she walks across the world. In just over a year, she has already journeyed through 12 countries and walked over 5,592 miles!
Little Amal was created with the intention of invoking social change. The team behind "The Walk" wanted to send a message about the global refugee crisis. Little Amal is the puppet of a 10-year-old Syrian refugee, and her walk around the globe is symbolic of the journeys that thousands of child refugees are forced to take when they must flee their homes due to war and persecution. Little Amal's walk calls direct attention to the refugee crisis. Her message, as stated on her website, is "Don't forget about us." Her impact thus far has proven her message to be successful.
Although Little Amal has received widespread attention since 2021, she is currently going viral once again as she visits The Big Apple.
Everywhere she goes, Little Amal is met with parades and events of celebration. New York was no exception and welcomed the young refugee with a performance by the Metropolitan Opera Orchestra and Children's Chorus.
During her time in NYC, Little Amal has visited iconic landmarks such as Times Square, Grand Central Station, and the American Museum of Natural History.
Little Amal's NYC adventure has been documented for the online viewing of millions. The news of her journey, and most importantly her purpose, is reaching people worldwide. Although her trip to New York ends today (October 2), Little Amal will have left a big impact on the city.

Where will Little Amal go next? Follow her TikTok account to stay updated!