'Katy Perry: Part of Me': A Must-See if You're a "California Gurl"
06-26-2012 by Sarah Osman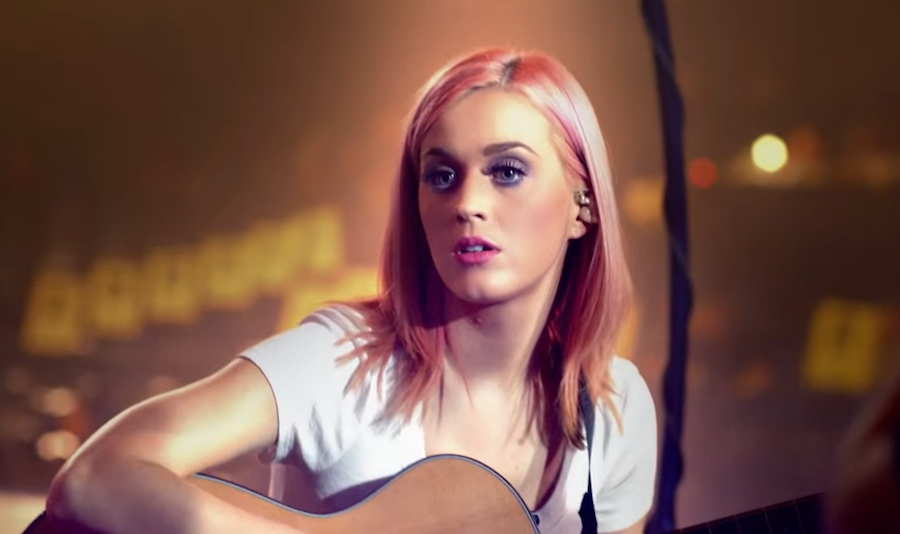 ( © Paramount)  
I have to admit, I found myself surprised at how much I enjoyed spending time in Katy Perry's dazzling spectacle. Filled with dancers decked out in costumes ranging from candy skirts to peacocks and glittering lights, Perry's ever-changing wardrobe (my personal favorite included Perry's opening peppermint dressed with spinning peppermints on the part of her she really seems to like to emphasize) and a giant, purple mascot that dances alongside her on stage named Kitty Purry, I found myself fascinated by her concerts. They were beyond cheerful; it was like watching a real-life version of the board game Candyland, except if Candyland was ruled by a magical queen who sang about being someone's "Teenage Dream". If you are a fan of Perry's, then it is highly likely that you attended one of her concerts during her California Dreams Tour, but if you did not get the chance, then Katy Perry: Part of Me 3D is your chance to.
While Perry's concerts fascinated me, I was more intrigued by the bio-doc portion of the film. Perry and her sister, AngelaHudson, recounted memories of their extremely conservative upbringing. The two sisters and their brother were raised as Penecostal Christians, and their parents were traveling ministers. Perry initially got her start in Christian rock, and originally signed to Red Hill when she was 15 as a Christian singer. This obviously did not pan out, and the wide-eyed singer moved from Santa Barbara to Los Angeles with hopes of stardom, where she truly learned about the outside world (and apparently learned who Michael Jackson was and made her first gay friends). I particularly enjoyed Perry's father's reaction to this, who commented to his wife that she would be "dancing on MTV with half her clothes off," to which her mother curtly replied, "She won't be dancing with half of her clothes off."
Perry's journey to becoming an international sensation was a rocky one, and I particularly got a kick out of the different personas she tried before signing with Capitol in 2007. I couldn't help but laugh at her attempts to imitate Avril Lavigne's faux punk attitude, and I enjoyed how Alanis Morissette's angry break-up songs inspired her. I found it interesting to see how "I Kissed a Girl" was released as her first single, as well as her and her entire entourage's joy at being the first female artist to have five singles from the same album hit number one on the Billboard 200 chart.
However, as I watched the film, I found it difficult to relate to Perry. While I admired her devotion to her fans, her determination, and her deep love for every member of her crew, I found myself viewing her as a sparkly pop goddess sent here to entertain me and remind me of how much I admire her and her stylist's wardrobe creations. But then she began to discuss -- and show -- how her marriage to Russell Brand began to fall apart. I was truly moved as Perry sobbed for her husband uncontrollably backstage before a show in Brazil, barely able to sit through hair and make-up, unsure if she could even go on stage. She continued to sob up until the very moment she took the stage, when she transformed her face into a smile and performed for her fans, who shouted "We love you, Katy Perry!" in Portuguese, nearly making her dissolve into tears once more. I was truly touched when she was asked, "Do you still miss him?" and she muttered "Yes," before breaking down once more. Having been through a rather horrific break-up myself (haven't we all?), I related to Perry at this moment -- and I admired her vulnerability to share this with her fans, as well as (once again) her devotion to her fans. Even when down and out, Perry manages to get herself up and greet her fans.
And she (and Paramount) didn't spare any expense when it came to this pre-screening either! Every attendee was given our own pair of exclusive Katy Perry: Part of Me heart-shaped 3D glasses, which myself and our YH Editor, Katie, were happy to model for you all! (below)
( © Katie Marzullo/Instagram)
The film is a must-see if you're a fan of Perry's (or a fan of spectacle in general). And even if you just enjoy listening to her music every now and again, Perry reveals an interesting part of herself that I enjoyed getting to know. And, really, that giant purple mascot cat is truly worth seeing in 3D.