John Legend Plays a Matchmaking DJ In New Video "A Good Night"!
Written by Kalia Kornegay. Published: April 09 2018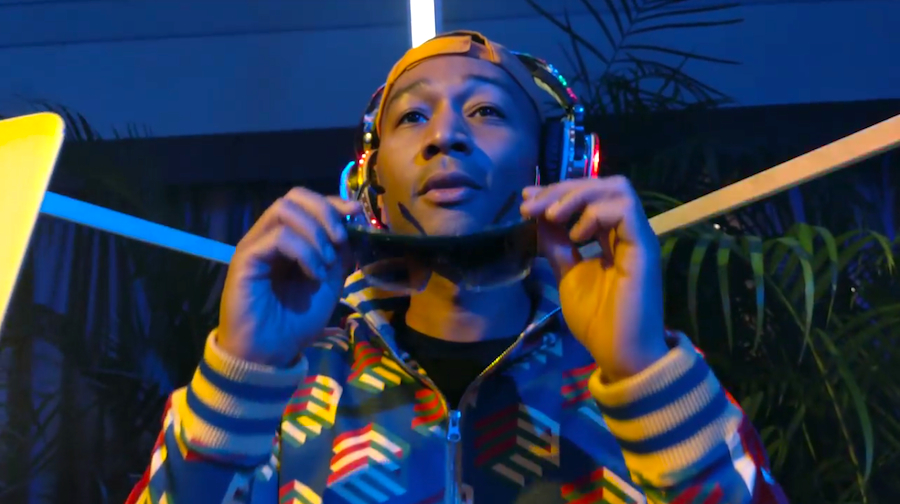 John Legend is back at it again with another lovable hit, and a romantic music video to match!
"A Good Night" was just released and is a disco, funk-infused track that is the new pre-Summer hit of the season. The singer paired up withBloodPop, American musician and producer, and the result is a smooth, sultry jam all tied together with Legend's iconic vocals.
Now, on to this music video. First of all, the entire thing was recorded on the Google Pixel 2 phone and looked amazing! There was no difference in production quality from other music videos, which shows how much the video quality of smartphones has improved these days. As for the lyrics, the song is an ode to the power of what a solid night out can bring. The track opens with Legend setting up the perfect scene: "I had no intention I would get locked up tonight / But I looked in your eyes and they went through me like a knife / I came here with my crew I lost 'em / Came with my cool I dropped it." We're then soothed by his repeated assurances of "Everything's gonna be all right / I think I just met my wife," telling the story of how finding love can be easier than we think.
The love story in the lyrics is then matched beautifully with the story we see on-screen. It follows a woman's journey through a (very blue) club, as Legend himself jams out at the DJ table. As she comes face-to-face with a good-looking guy, everything is set up to look like a perfect first meeting, but then she literally swipes left on him and he tumbles to the ground! That scene is repeated a few times as she acts out live-action Tinder, before finally finding someone she seems to like. But, just kidding, she gets swiped left on too. Ouch.
After her swings and misses, one man stands out from the rest and the two "scroll" through the others' pictures, with him lingering on a sexy shot of her in a bikini. Their connection culminates in an epic dance scene, followed by the two quick-changing in the air to be married on the spot! We then have a gorgeous wedding with John Legend jumping in to party with the newlyweds.
While I doubt many of us have night outs that play like a "Black Mirror" version of Tinder or sudden marriages in the club, the three-ish minutes of pure romance in the video were certainly a treat. Legend proved that finding your soulmate is as easy as having "A Good Night!"
(Image via John Legend/YouTube)
- Kalia Kornegay, YH Contributing Writer