ICYMI: Zachary Quinto Takes on Another Nimoy Role, Two New 'Cloverfield' Movies, Another Superman Prequel, & More!
Written by Kevin Donaldson. Published: February 03 2018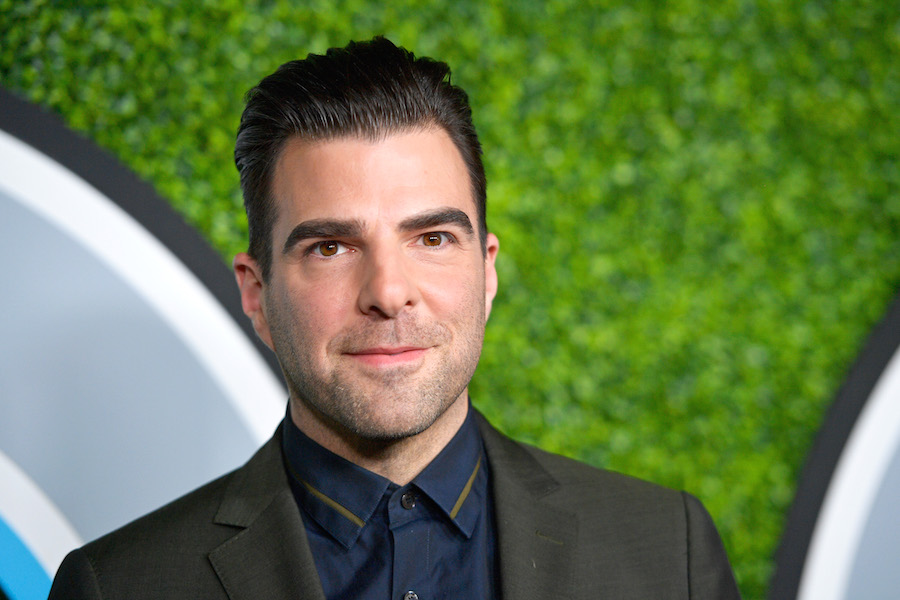 Some groundhog came out and said one thing and then about a dozen others said that that groundhog was lying. Either way, as my great-grandpa would say, it's hotter than a witch's teet out here in Los Angeles. I'm pretty sure the sun forgot it was still Winter and is giving us Summer. Or the atmosphere is crumbling and we're all gonna die. No matter what, here's some stuff to hopefully look forward to before the grim reaper comes to collect...
Jim Parsons and More Ted Bundy Victims
Jim Parsons, Haley Joel Osmont, John Malkovich, and Kaya Scodelario are set to join Zac Efron and Lily Colins in the upcoming long-titled serial killer film Extremely Wicked, Shockingly Evil and Vile. You may have heard of the film as it will see Efron in the starring role of notorious serial killerTed Bundy, who is believed to have killed more than the 30 victims between 1974-78. Colins will play his longtime girlfriend who had no knowledge of his dark crimes.
While everyone else's roles could be victims or people in Bundy's life, we know that Parsons will play the lead prosecutor of the Miami case, Larry Simpson. With this recent casting. it is safe to say that film won't be finished for some time and no release date has been announced yet. The film, however, made a recent stir with it's pretty spot-on photos of Efron as Bundy. While the rest of the cast is full of solid choices, it seems Efron is the one everyone will be paying attention to see if he can pull it off or not.
Cloverfield 4?
With 10 Cloverfield Lane coming almost two years ago, it seems a new sci-fi franchise produced by J.J. Abrams is emerging. On top of that, this sequel to the originalCloverfiled is raising questions if the series will be an anthology or if they're connected somehow. With a possibly untitled third film (potentially being called Cloverfield Station -- there's no trailer as of now) slated for April 20 this year, it came as a shock to people that a fourth entitledOverlord was secretly filmed and will be hitting theaters in October 26 of this year. That means two Cloverfieldfilms will be out this year!
Cloverfield is an interesting franchise as it was once a one-off found-footage monster movie from 2008 that seemed to be just left as that. Than nearly a decade later, somebody got hold of an unrelated script (most likely Abrams) that was co-authored byWhiplash and La La Land director Damien Chazelle. Somehow it got to the point that this self-contained story could work into Cloverfield and now we have a bonafide franchise. With these two new ones coming out this year, it makes you wonder how they'll all work out together.
"In Search Of" a New Host
The History Channel has decided to bring back a once popular show about searching for mysteries and the science behind such things as time travel, UFOs, alien encounters, artificial intelligence, etc., called "In Search Of". The original series had it's run in 1977-1982 with host and late "Star Trek" star Leonard Nemoy.
While Nemoy is better known today for his work in "Star Trek", it should be noted that he captivated audiences with wonder throughout his run on "In Search Of". With Nemoy gone from us these days, who should host? The History Channel already got the perfect replacement -- the new Spock, Zachary Quinto! While Quinto has had a pretty great and diverse acting career so far, he also has absolutely crushed the role of Spock, so it makes sense that he should take over these searching duties as well. This series run as of now will only consist of 10 episodes. It is unclear at this time if it will be a miniseries or if there is an option to make more if it does well. There is also no premiere date at this time.
CW Pilots
The CW has a lot of new shows going to pilot. What you may not know is that it doesn't mean that any of the record-breaking nine pilots ordered that all will make it. What has jumped out the most, however, from the set of new pilots is that two of them are reboots of old WB shows (which was the CW before the CW). The shows are: "Roswell", a series about orphaned aliens raised by humans trying to blend into high school, based on a book series called Roswell High; and "Charmed", a show about adult sisters who find out they're witches and then have to fight demons.
"Charmed" lasted 8 seasons and 178 episodes, making it a pretty big hit for the WB at the time and continues to have reruns shown on TNT and streams on Netlflix with altered music. "Roswell", however, had an interesting plot but never really caught on quite as much, as evident by its 3-season and 61-episode run and is currently streaming on Hulu.
New DC Streaming Service Show
While the Superman prequel shows keep stacking up, here's another one! DC's upcoming streaming service has announced that their second live-action show will be entitled "Metropolis" and will be about Superman's prized city but before he gets there. It's being described as similar to how "Gotham" is about Batman without Batman.
Which villains will be running amuck throughout the city is anybody's guess. With Batman, I always took away from any incarnation, whether it be the comics, an animated series, or any of the movies, is that Gotham has always had a crime problem, and then when Batman came by, he made it better but also worse by attracting supervillains like The Joker and Poison Ivy. While some of Batman's villains have powers, a good amount of them are just criminally insane people both scarred mentally and physically. Superman, however, fights a lot of overpowered beings from our planet, throughout the universe, and even some from other dimensions.
How "Metropolis" pans out as a city before Superman could be interesting to see, I just have no idea what they're going to do. DC seems excited about it, however, since they have already given the first season a 13-episode order due out next year.
trailers. Trailers. TRAILERS!!!!!
Before we start this off, it should be noted that the Solo trailer was announced to be hitting "Good Morning America" this Monday. Tune in if you like the news! Otherwise, wait until the afternoon.
Mute– Finally a trailer for this comes out. I heard about this before Netflix picked it up nearly 10 years. Alexander Skarsgard plays a mute in it so it better be good:
Ant-Man and the Wasp – More Paul Rudd for you:
Unsane – First thriller shot on an iPhone. Looks interesting:
Deep Blue Sea 2 – Who hasn't been waiting for this one? And it's straight to video!
Irreplaceable You – More Netflix. Looks sad:
When We First Met – Much less sad. Thanks, Netflix:
Dundee – Fuller trailer now. This video deceives but shows a lot of more people in this than I thought there was:
Hereditary – Don't watch before bed. Or be the boss of you and do whatever you want. Get that extra order of fries if it makes you happy:
(Image via Matt Winkelmeyer/Getty Images)
- Kevin Donaldson, YH Contributing Writer