How To Throw The Best Harry Potter-Themed Party!
Written by AnnMary Mailyan. Published: October 28 2022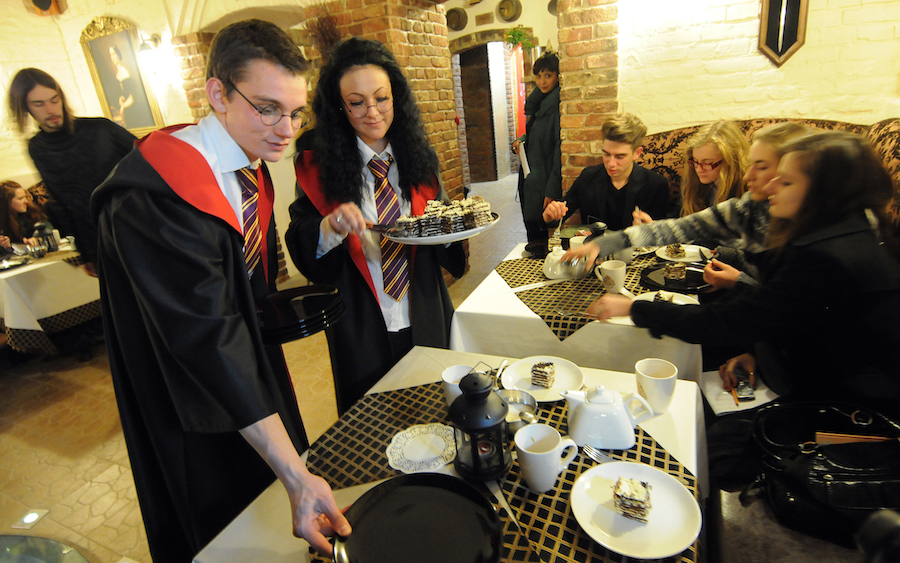 ( © YURIY DYACHYSHYN/AFP via Getty Images)
As the weather gets colder and gloomier, the instant thought of Potterheads is that it's the right time to return to Hogwarts. Autumn has officially become the season of Harry Potter, as the story somehow feels much more magical and cozier, when you watch or read it on a rainy night, wrapped in a warm blanket, with a cup of tea or hot chocolate and candles and twinkle lights all around. Sounds just perfect, doesn't it?
Since we're celebrating the season of the Chosen One, why don't we make things a little fancier? Imagine throwing a whole party with Harry Potter theme, how awesome would it be? It doesn't even have to be a huge party with hundreds of guests, if you're more introverted and avoid bigger crowds. You can invite a few close people over, have a double or triple date, and just enjoy a marathon of all the movies. 
Doesn't really matter what kind of a gathering you'll choose, because we are going to make it super magical, something all your guests will remember for years. So, without further ado, grasp your wands and come aboard the Hogwarts Express that will take you to the most memorable day ever!
1. Decorations
Decorating your place is the most important step. With the right mood in the room, even an ordinary small gathering will feel enchanting. If you have any Wizarding World merchandise, like wands, figures or, why not, broomsticks (you can even use regular ones, by the way), it's the right time to display them.  You can either decorate the space with general Harry Potter elements, or be more specific and try to recreate the Great Hall of Hogwarts or one of the common rooms of four houses. In any case, here are some ideas that will be relevant for any type of design you'll choose:
Floating candles: You can either buy or DIY them. All you'll need is artificial candles, some thread, and a tape. Just wrap the thread around the candles and secure them on the ceiling with tape, and voilà! 
Twinkle lights: They always manage to make the place looks extra-dreamy. The more, the better. If you're recreating one of the common rooms, you can choose a specific color, for instance red for Gryffindor or blue for Ravenclaw.
Pumpkins: Don't forget that it's also Autumn season outside, so pumpkins will just be perfect. Moreover, they're quite common in the Wizarding World. Let Hagrid's pumpkin patch be your inspiration.
Bats: If you're planning on throwing the party around Halloween, you can add some bats to your walls and ceilings as well, as the Great Hall is full of bats for All Hallow's Eve. Don't worry, they don't have to be real like in the original story; you can simply make them from paper by cutting out bat shapes.
Posters and garlands: You can print the emblems of Hogwarts and all 4 houses and stick them to the main wall, or make a garland using some thread and glue. You can also create a wall full of Daily Prophet covers, pages from old spell-books, or even the "Wanted" posters with Sirius Black, Bellatrix Lestrange, and other prisoners who escaped Azkaban. 
Magical dishes: If you manage to find a cauldron-shaped bowl with dry ice, then consider your work done! It will look like a proper brewing potion of a witch. Try to find some old and magical-looking bowls and cups for your snacks and drinks. Little bottles with cork lids, old golden goblets, and plates will completely transform the muggle table.
2. Snacks
Next step -- treats. If you want your party to be extra fancy, make sure to add theme snacks as well. Chips, cupcakes, and sandwiches are always welcome, but here's how you can spice up your "cuisine" for this special occasion!
Pumpkin pies and juice: As we mentioned earlier, pumpkins are very popular in a wizard's world. You can substitute the juice with anything else that looks like similar, for example, an orange lemonade or Fanta. Alcoholic or not, that's completely up to you.
Chocolate frogs and Bertie Bott's Every Flavor Beans: While it's quite easy to find them in some supermarkets or even on Amazon, you can use substitutes as well. For chocolate frogs, you can find special frog molds, add some melted chocolate, and that's it! You can also make frog-shaped chocolate cupcakes, which will be even cooler. As for the beans, if you won't manage to find them, you can use M&M's or Skittles instead.
Butterbeer and Firewhiskey: The perfect beverages for the mystical party. In reality, they're really easy to make, you just need to find the right ingredients. There are plenty of recipes on Pinterest and YouTube; find the ones that you like the best and start brewing your "potions"!
Harry's birthday cake: Remember the first ever cake that Harry received on his 11th birthday? It's a simple chocolate cake with pink icing and green lettering, quite easy to make, even for those who are far from being proper cooks.
Hagrid's rock cakes or Mrs Weasley's mince pies:These will also be a nice addition to your feast.
3. Games and Activities
Here's when the fun part begins. If you all want to just chill, have a nice chat, play regular board games, or watch the movies, that's completely fine as well. But in case you want to get totally involved in the magical world, here are some cool ideas that you can use!
Sorting ceremony: When your guests arrive, you can sort them (and yourself as well) into one of the 4 houses. Prepare a small test, which will decide where each person belongs, no matter what their favorite house is. You can either use the official house quiz from the Wizarding World website, or make up the questions yourselves. Once you've answered all the questions, it is time for the Sorting Hat (which can be DIY-ed as well) to announce your home for the next 7 years -- or in this case, the next few hours.
Trivia: Quizzes are always fun as well, especially if you are all competitive. The quizzes can be a general knowledge test, or something more difficult and specified, like knowledge of spells or guessing the movie from a screenshot, etc. You can either play on your own or as teams, especially if you do the sorting. In this way, you'll be fighting for the House Cup! 
Game of impressions: Try to cosplay the best Dumbledore, Voldemort, Umbridge, or anyone else. This will definitely crack you up. You can also stage little performances of some parts from books or movies. Imagine yourself portraying your favorite character, how hilarious that will be!
4. Dress Code
Since you're throwing an official Harry Potter party, then the dress code is a must! You can either dress up as your favorite characters, but then there's a risk of having 3 Harry Potters or 2 Hermiones, which isn't the best option. Or you can all dress as simple students in uniforms. In this case, if you do the sorting ceremony, you can give each person a badge, a tie or a scarf that will represent their house. If not, you can just ask your guests to add the symbol of their preferred house on their own.
Another fun idea is to write different characters' names (preferably the ones that are the most fun to portray, like Luna, Bellatrix, Snape, Trelawney, etc.) and then blindly draw the name. You should do this before the party, so the participants will have time to prepare. If you can't all meet in person, there are lots of online tools and websites that will help you with it. 
5. Important Details
Sometimes the smaller details and elements are the most important ones. Even with the right decorations, treats, and games, something may feel off and not as great as it could have been. So, when you decide to throw the magical party, don't forget about these essential things!
Invitations: They're a nice touch for your party. You can make them in the form of Hogwarts letters and write each guest's name and the place and time of the event. If you don't have enough time to do that by hand, you can just find templates on the internet, add the details to each letter, and send them via email or snail mail.
Marauder's Map: If the party area is big, you can create a map (or a few smaller maps for each participant individually) and note every important space: the game zone, snacking area, place with drinks, photo corner, etc. Speaking of which…
Photo corner: With such beautiful atmosphere, everyone will absolutely want to take a photo (or a hundred) to remember this spectacular day. Create a small corner with extra candles, fairy lights, and decor items as a photo-zone, where you can capture these good memories forever. 
Music: Imagine how boring the films would be without the amazing music in the background. Prepare a playlist with every single soundtrack from all movies, and believe us, you'll feel like you're in the films yourselves, especially with all the costumes and decorations around.
Prizes: If you're going to play games, don't forget about the prizes. You can create a small Goblet full of candy if you're doing a House Tournament, or think of individual little gifts. 
Wands: They're really easy to make. Just use some small branches or chopsticks and paint them, that's literally it. Your friends will be very happy for such unique details.