HIDDEN ON STREAMING: 'Life After Beth' (2014)
Written by Kevin Donaldson. Published: April 22 2015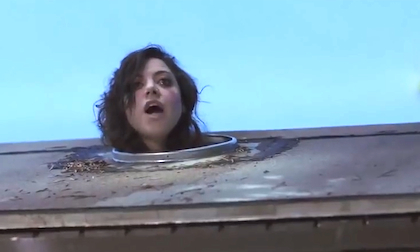 It's tough to say whether or not the zombie craze still has a pulse or is slowly festering in people's minds still, but there's plenty of interesting ways to look at zombies today than never before. Starting with Shaun of the Dead, we saw that you can infuse romance into a zombie apocalyptical world, then there wasWarm Bodies that literally showed us a living person falling love with a zombie, and now there's Life After Beth, which you can see for free right now with your Amazon Prime membership!
Life After Beth stars the likes of Aubrey Plaza,John C. Reilly, Dane DeHaan,Anna Kendrick, among many others, and is written and directed by Plaza's boyfriend Jeff Baena, who also co-wrote I Heart Huckabees with directorDavid O. Russell. (Fun Fact: The O is not for ostrich… it's for Owen. Who knew?)
Baena decided to take his first major directorial effort towards a story about a young woman (Plaza) who dies and is then resurrected as a zombie. Plaza gives a great and committed performance all around as the title character Beth. The story mainly follows DeHaan as Beth's boyfriend Zach, who has his regrets about things he didn't do with Beth or say to her while she was still alive. Zach sees he has a second chance, but at the end of the day, Beth is a zombie, so she has her own #undeadproblems that make her not exactly the same girl he once loved.
The most interesting things about Life After Beth are the issues that zombies go through in this world that Baena has created. For some reason, in this world, zombies love to hang out in attics, elevator muzak gets them horny, they are very forgetful and overly emotional, and, like many other zombies before them, they have a thing for wanting to eat human flesh. Beth, as an undead character, also seems to have an unrelenting need to spend a lot of time with Zach. She loves him and wants to stay with him forever, thus she hilariously forces herself on Zach like an obsessed lunatic. One could argue with Plaza's onscreen persona that Baena drew some of this stuff from his real life relationship with her, especially when it comes to the fact that Beth loves hanging out in attics. Plaza just has that persona that, if you went over her house for a dinner party and she hosted it in her attic, then you would probably think... "Yup, that sounds about right."
I highly recommend anybody who digs zombies to check out this flick, especially if you want to see zombies in a different light. This is without a doubt one of the most original zombie movies I've ever seen, and I've seen a zombie fight a shark! So do yourself a favor and check out Life After Beth on Amazon Prime today! But before you do, why not take a look at the trailer?
(Screenshot via YouTube)
- Kevin Donaldson, YH Staff