First Teaser for 'Deadpool 2' Doesn't Disappoint!
Written by Brennon Barclay. Published: November 15 2017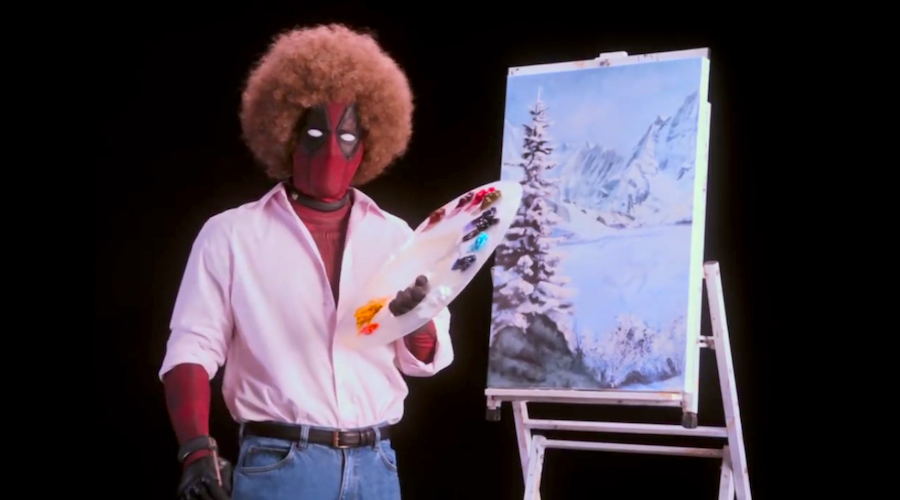 It may have only been a year, but it seems so much longer since we got our first Deadpool fix. 20th Century Fox is giving audiences what they want and is delivering on Deadpool 2, which is now in post-production. When the first movie was released in 2016, it broke worldwide records and changed the face of the superhero movie genre, so obviously it was only a matter of time before a sequel would be released. Although we will have to wait until June 1, 2018, to watch Deadpool 2 in its entirety, the first teaser trailer has been released, and we see Ryan Reynolds reviving the cheeky, irreverent character.
In the two-minute "Wet on Wet" teaser, we see the masked mutant gene vigilante Deadpool sporting a 'fro wig and dad jeans while parodying the iconic Bob Ross from PBS's " The Joy of Painting". About one-minute thirty seconds in, we see a dramatic shift from the subdued instructional painting (complete with quirky paint names like "Mennen Black" and "Betty White") to show dramatic sequences from the upcoming movie in which we see characters from the first film, including Cable (Josh Brolin), Blind Al (Leslie Uggams), and Negasonic Teenage Warhead (Brianna Hildebrand), embroiled in high-stakes situations before swiftly switching back to the painting video. After multiple drug references at the beginning of the trailer, it concludes with Deadpool preaching "hugs not drugs."
With the obvious return of Ryan Reynolds, who also serves as a producer, writers Paul Wernick and Rhett Reese are also back on board with John Wickco-director David Leitch joining the team. In terms of new faces, we will be seeing Zazie Beetz(known for her role as Vanessa "Van" Keefer from FX's "Atlanta") taking on the role of Neena Thurman/Domino, a mutant mercenary.
Deadpool has become iconic due to its self-aware anti-hero angle. In a market saturated with superhero films, Ryan Reynolds delivered a refreshingly comedic take on the genre. Although the film is R-rated, it has strongly competed and even surpassed many PG-13 films of the same category regarding box-office success. The film's unconventional and self-deprecating marketing campaign also served it well, and considering the new teaser trailer,Deadpool 2 is continuing the trend that made the first film so successful.
(Image via 20th Century Fox)
- Brennon Barclay, YH Contributing Writer