Everything You Need To Know About "Never Have I Ever" Season 3!
08-11-2022 by Skylar Zachian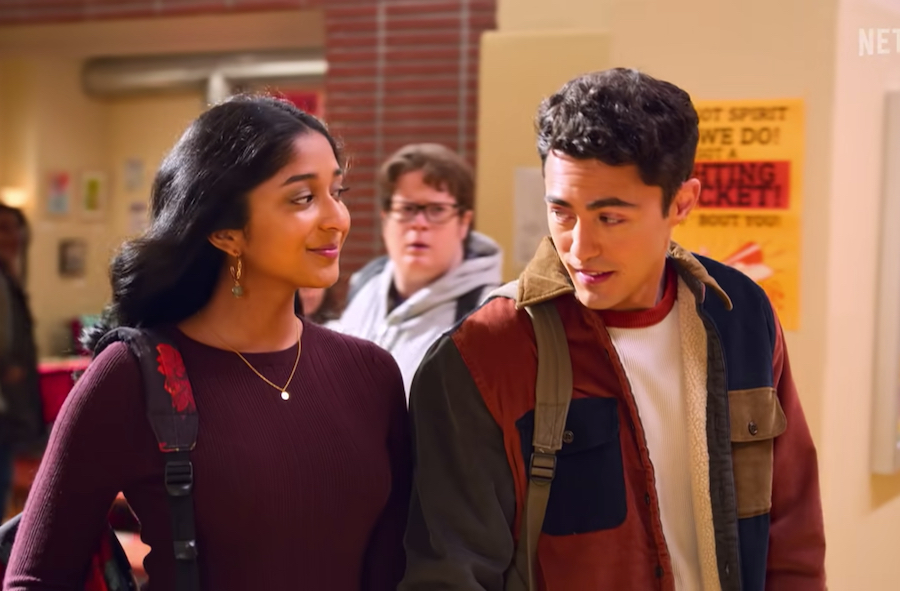 (Netflix)
We all remember April of 2020 when we were taking walks, making whipped coffee, and binge-watching Netflix to combat quarantine boredom. At that challenging time, one of the only things keeping us afloat was the hit Netflix show "Never Have I Ever". After obsessing over Season 1, we spent months anxiously awaiting the release of the second season, which came in July of 2021. Season 3 drops on Netflix tomorrow (August 12), and we can't contain our excitement! 
Before we jump into everything you need to know about Season 3, let's recap. "Never Have I Ever" follows Devi (Maitreyi Ramakrishnan), a smart, short-tempered teenager who is determined to shed her reputation as the "paralyzed Indian girl whose dad dropped dead at a school function". After Devi's dad passed away, she suppressed her emotions and redirected all of her energy toward crushing on Paxton Hall-Yoshida (Darren Charles Barnet). Other than attempting to win over Paxton, Devi spent most of the first season trying the patience of her therapist and majorly embellishing her love life to her best friends… oh yeah, and feuding with her long-time academic nemesis Ben Gross (Jaren Lewison). The only class we see Ben and Devi in is History, but the two of them definitely have chemistry!
In Season 2, Devi finds herself in a love triangle between Paxton and Ben. Exercising her poor decision-making skills, she ends up secretly dating both. Plus, Devi's jealous side comes out when new girl Aneesa Qureshi (Megan Suri) joins her class and becomes immediately well-loved by everyone. We spent most of the season screaming at our computer screens trying to talk some sense into Devi.
That brings us to Season 3. It looks like things are finally looking up for Devi. She and Paxton are now an official couple and make it known by walking the halls of Sherman Oaks High holding hands. There is definitely some drama brewing, though. Devi struggles with suddenly being the talk of the school. Plus, not only are we wondering what will happen with Ben, but a new boy, Des (Anirudh Pisharody), comes into the picture. 
On August 5, Netflix posted this YouTube video giving us even more Season 3 details, like the fact that there's an anonymous student who sets out to spread gossip in a "Bridgerton"-esque manner. This video also reveals that many characters will have new love interests, there will be at least one break-up, we'll get 2 holiday episodes, and there are a total of 5 new characters!
You're probably wondering where you recognize these new characters from. We've got you covered!
Anirudh Pisharody (Des) has been in movies and shows such as Cerebrum, Killer Competition, and "9-1-1"!
Deacon Phillippe (Parker) is new to the entertainment industry, with "Never Have I Ever" serving as his official debut. He may look extremely familiar, though, because he's Reese Witherspoon's son!
Terry Hu (Addison) just held the leading role of A-Spen in Disney's Zombies 3!
Victoria Moroles (Marco) played Andie on "Liv and Maddie", Hayden Romero in "Teen Wolf", and Lupe in Plan B.
Sarayu R. Blue (Rhea) has been in shows such as "Monday Mornings" and "I Feel Bad". She has also guest starred in hits like "The Big Bang Theory", "NCIS: Los Angeles", and "Two and a Half Men". You might also recognize her from the movie Blockers.
Now that we know all about the plot and characters, let's talk behind-the-scenes! On August 9, Maitreyi was a guest on "The Tonight Show Starring Jimmy Fallon" where she talked about how she enjoys trying to convince people that she is related to the show's co-creator Mindy Kaling. She also shared her experience first meeting the show's narrator John McEnroe. To top it off, Jimmy showed an adorable picture of Maitreyi as a child and a sneak-peek of a clip from Season 3!
Ready to watch Season 3 but need something to look forward to once you've finished all of the episodes? A 4th and final season will be coming our way in 2023! This calls for a celebratory dance!